South Bay San Diego
Posted by Juan Valadez on Sunday, March 26, 2023 at 10:14:48 AM
By Juan Valadez / March 26, 2023
Comment
Located between downtown and the Mexican border, lies South Bay San Diego–the gateway to Baja California. The area is home to a number of exciting cities and neighborhoods, thriving commercial centers, beautifully maintained parks, and vast nature reserves. Popular outdoor activities include surfing, fishing, horseback riding, hiking, RV camping, and mountain-biking. Moreover, you'll find some of the most authentic Mexican food this side of the border.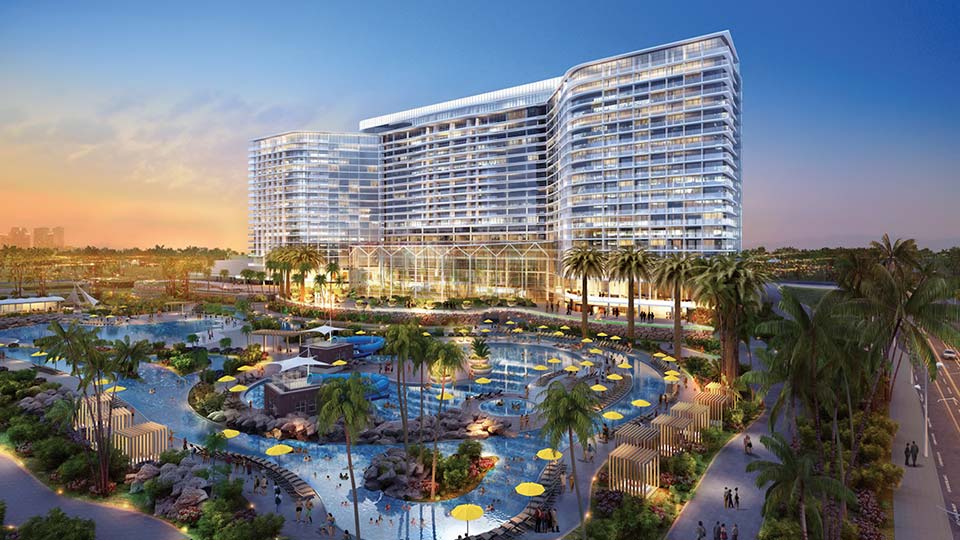 South Bay San Diego Cities & Neighborhoods
South Bay San Diego is full of great neighborhoods from coast to inland. Want to be close to the water? Imperial Beach offers beachfront living with an easy drive to Coronado Island and Downtown San Diego. Looking for a luxury home? Bonita features beautiful custom homes in tranquil tree-lined neighborhoods. Interested in a brand new home? Explore the many new neighborhoods of East Chula Vista. Whatever your lifestyle preferences, you can find an ideal place to live in the South Bay.
Bonita: A Relaxed South Bay Enclave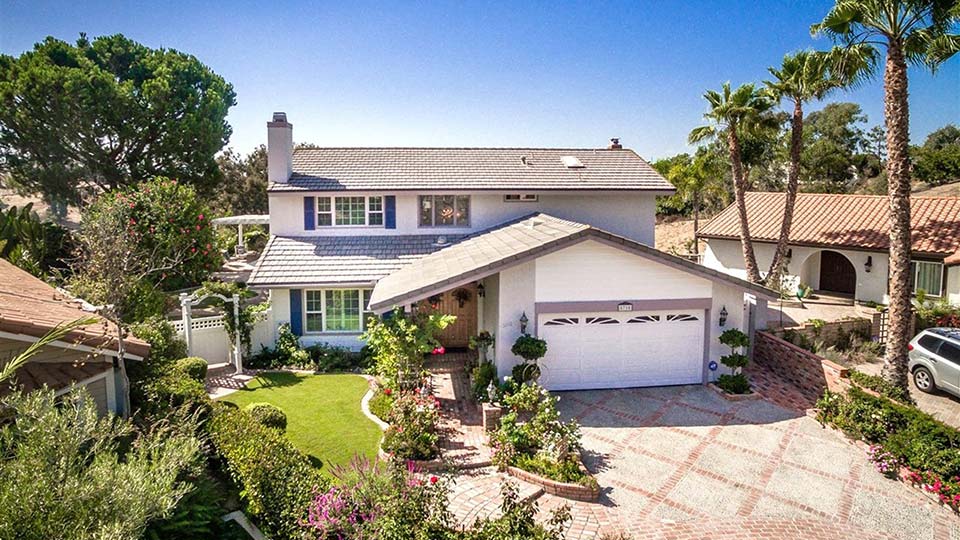 Bonita features some of South Bay San Diego's most charming and exclusive neighborhoods. Residents enjoy lots of nearby coffee shops, parks, walking trails, and shops. With above average public schools and safe neighborhoods, Bonita is an ideal place to raise a family.
Located in the Lower Sweetwater Valley, Bonita occupies a five-mile stretch of the Sweetwater River, its valley, and surrounding hills. It is bounded by the Sweetwater Reservoir to the east, and Insterstate 805 to the west. State Route 54 marks its northern boundary.
Bonita Neighborhoods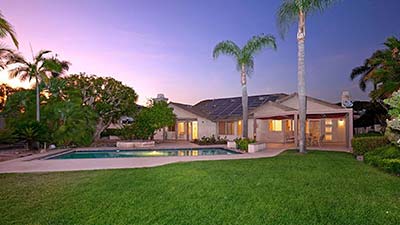 The residential portions of Bonita consist of housing developments built throughout the 1960s, 1970s, and 1980s. Neighborhoods feature lush greenery, tree-lined streets, beautifully landscaped yards, and a nice quiet atmosphere. Residents describe bonita as an easy place to live and a great place to grow up in. There is plenty to do outdoors, and if you want to own horses, there are various open areas where one is free to ride them.
Some of the most popular neighborhoods in this South Bay San Diego gem include Bonita Verde Estates, Bonita Downs, Bonita Glen, Bonita Highlands, Bonita Woods Park, and Emerald Ranch.
The vast majority of Bonita real estate is single-family homes, with a handful of condos and townhomes. As one of South Bay San Diego's more exclusive communities, Bonita home prices start at around $650,000. Meanwhile, the most expensive homes are priced well above $1,000,000.
Chula Vista: Booming Growth & Popularity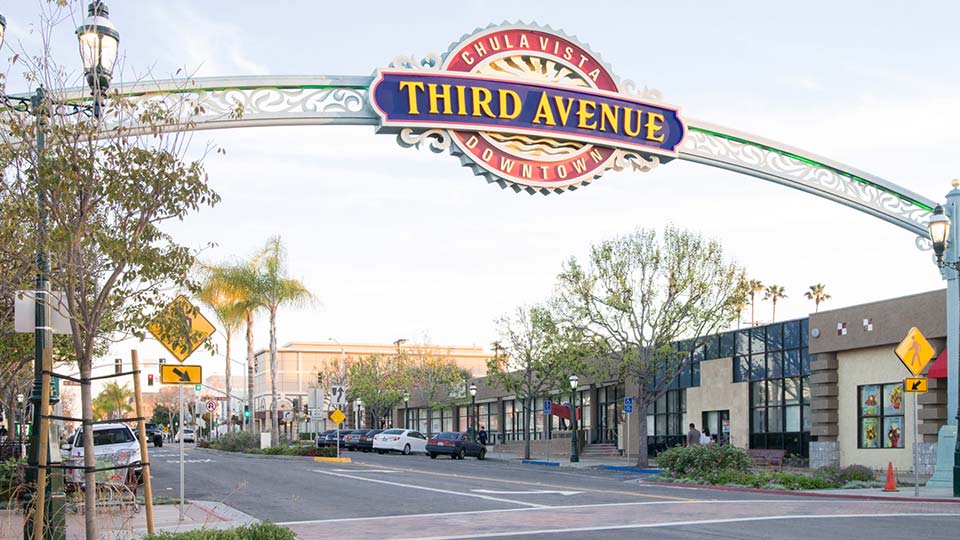 As the largest city in South Bay San Diego, Chula Vista sits at the center of an economically, culturally, and ecologically diverse region–one of the most distinct regions in the United States. With a population of 270,471 as of this article's publication date, it is the second largest city in San Diego County. Boasting over 50 square miles of coastal landscape, rolling hills, numerous parks, and miles upon miles of trails, making it ideal for outdoor lovers.
In the last couple decades, Chula Vista made tremendous progress in terms of economic growth and community development. Quality infrastructure, a strong consumer base, a well-educated workforce, and safe neighborhoods are the pillars of this South Bay San Diego city's success. Civic leaders have a great vision for the future, with a 535-acre bayfront mega-project in the works.
Chula Vista Bayfront Project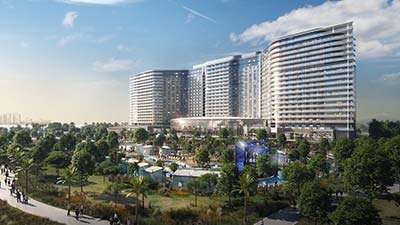 As of September 2019 the Chula Vista Bayfront Project is underway. The local and state-approved land use plan is a collaboration between the Port of San Diego and City of Chula Vista. This project represents one of the last large-scale waterfront opportunities in Southern California. When complete, it will transform the Bayfront into a premier commercial, tourist, and recreation destination.
Though the entire project will take up to 20 years or more, the first competed improvements–Harbor Park and Sweetwater Park–are expected in the next few years. Harbor Park will provide signature amenities, a wide range of recreational opportunities, and large open spaces for picnics and celebrations.
In total, the new Chula Vista Bayfront will include:
70 acres of new parks
120 acres of open natural space, habitat replacement, and wetlands
Shoreline promenade with walking and biking trails
2,850 hotel rooms
600,000 square feet of space for restaurant, retail, and marina-support services
220,000 square feet of space for commercial and recreation uses
1,100-3,000 square feet of space for parking
Living in Chula Vista: Urban & Suburban Mix
Living in Chula Vista offers residents an urban and suburban mix, with neighborhoods in every part of the spectrum. No matter what part of Chula Vista one lives in, parks, shopping centers, entertainment venues, restaurants, and nature reserves are never more than a short drive away.
From luxury custom estates, to spacious single-family homes, to cozy condos and townhomes, Chula Vista includes a good diversity of real estate in distinct neighborhoods.
For luxury buyers, there are plenty of exclusive neighborhoods including Bella Lago, Rolling Hills Ranch, Eastlake Greens, Eastlake Woods, Eastlake Trails, and Eastlake Vistas.
For first-time home buyers and those seeking more affordable homes, Northwest and Southwest Chula Vista are particularly ideal–one can still find single-family homes under $400,000. If a condo or townhome fits your needs, there are many in East Chula Vista also under $400,000.
View Homes For Sale in Chula Vista
Imperial Beach: A South Bay San Diego Gem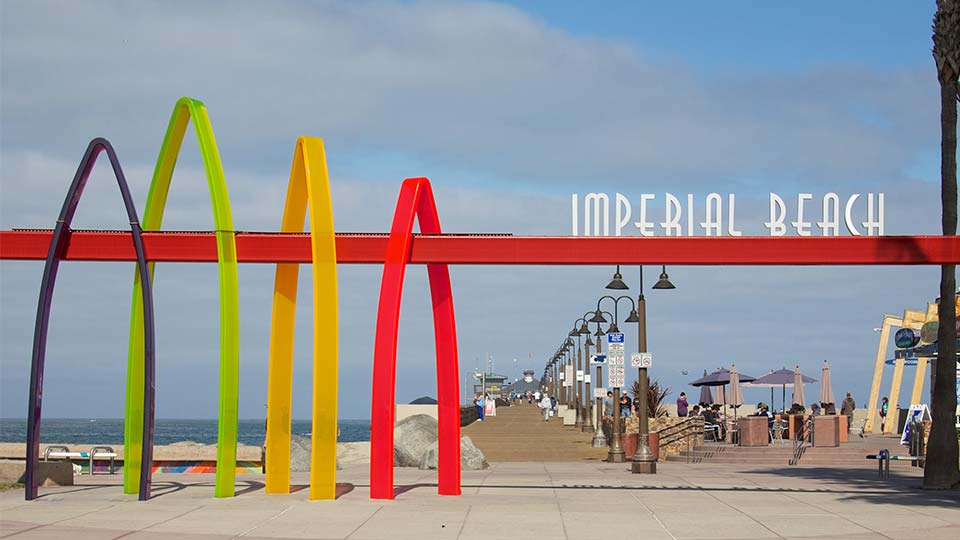 Located in the southwest corner of South Bay San Diego, Imperial Beach is the southernmost beach town in the United States. Just 5 miles north of the Mexican border, one can glance a twin Mexican beach town just on the other side. The 4-mile stretch of coast that makes up Imperial Beach features a host of activities including year-round surfing, sport fishing, horseback riding, and beach volleyball. The pier provides majestic vies of various landmarks including Coronado Islands and the Coronado Bridge. Imperial Beach is connected to Coronado via the Silver Strand, a 7 mile isthmus popular for camping and bicycling.
Imperial Beach is home to the unique ecology of the Tijuana River Estuary, where fresh water from the Tijuana River mixes with the salt water of the Pacific Ocean, resulting in the largest salt water marsh in all of Southern California. As one of the top birding spots in San Diego, it hosts various endangered birds and rare wildlife.
Annual events include free fish derbies, challenging triathlons, and the Sun & Sea Festival–a joyous celebration of the finest in sand castle art. There is also the Surfboard Museum, an outdoor art project about the history of surfing in Imperial Beach.
Imperial Beach Neighborhoods & Real Estate
Imperial Beach neighborhoods can be divided into those on the beachfront–Palm Plaza, The Breezes, Seacoast Beach Homes–and Imperial Palms further inland. Real estate in the beachfront neighborhoods includes a good mix of single-family homes, condos, and townhomes, many with spectacular ocean views. A short walk up Palm Ave or Imperial Beach Boulevard takes you into the quiet streets of Imperial Palms with its classic American homes–many built around and after WWII.
View Homes For Sale in Imperial Beach
National City: South Bay San Diego's Original City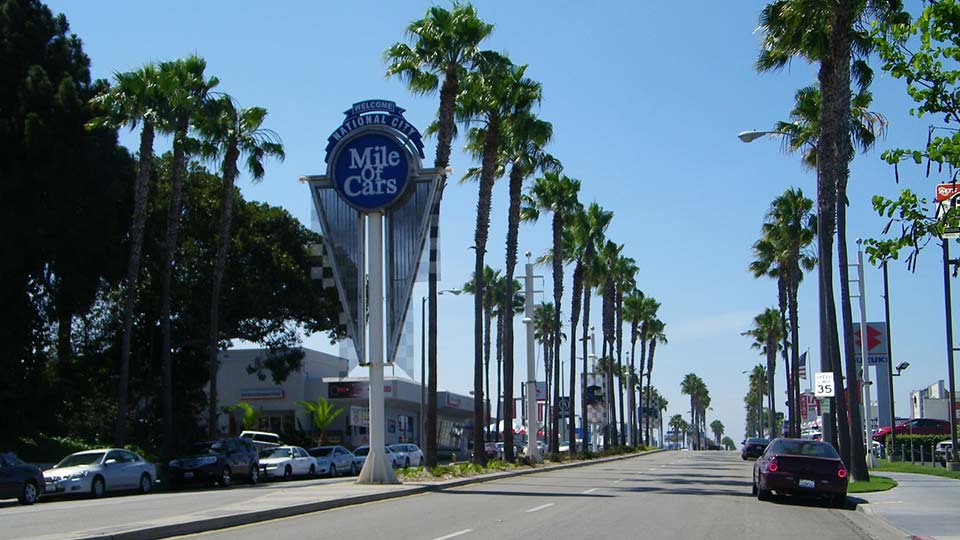 As the second oldest city in San Diego County, and the oldest in South Bay San Diego, National City is truly at the center of it all. Its central location, robust transportation network, and business industry give it a coveted competitive edge. National City is a 10-15 minute drive from key destinations including the San Diego Bay, Downtown San Diego, San Diego International Airport, and various colleges and universities.
National City is bounded by Interstate 5 to the west, and Interstate 805 to the east. Both the San Diego Trolley and Metropolitan Transit System (MTS) connect the city to the wider region.
National City is home to over 3,000 businesses–a staggering number considering its population of 61,363. It is one of the densest business climates in Southern California, and includes everything from major industries to family-owned operations.
National City Neighborhoods & Real Estate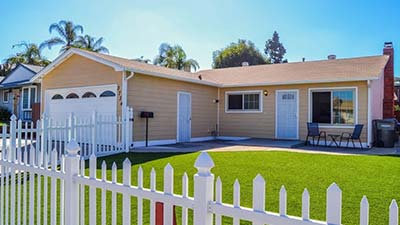 Though not known for its residential areas, National City has a few distinct neighborhoods worthy of mention when it comes to South Bay San Diego real estate. They include Lincoln Acres just east of the I-805 and north of SR-54, Paradise Village to the north, and Paradise Valley to the east. These residential enclaves are removed from the city's bustling commercial centers.
Real estate for sale in National City consists of one and two-story single-family homes, multi-family homes, and a handful of condos. Those looking for affordable San Diego real estate should not skip over National City. It's one of the few places left in the county with single-family homes priced below $500,000. In a place as popular as San Diego, this can quickly change as more and more neighborhoods experience major revitalizations.
View Homes For Sale in National City
Nestor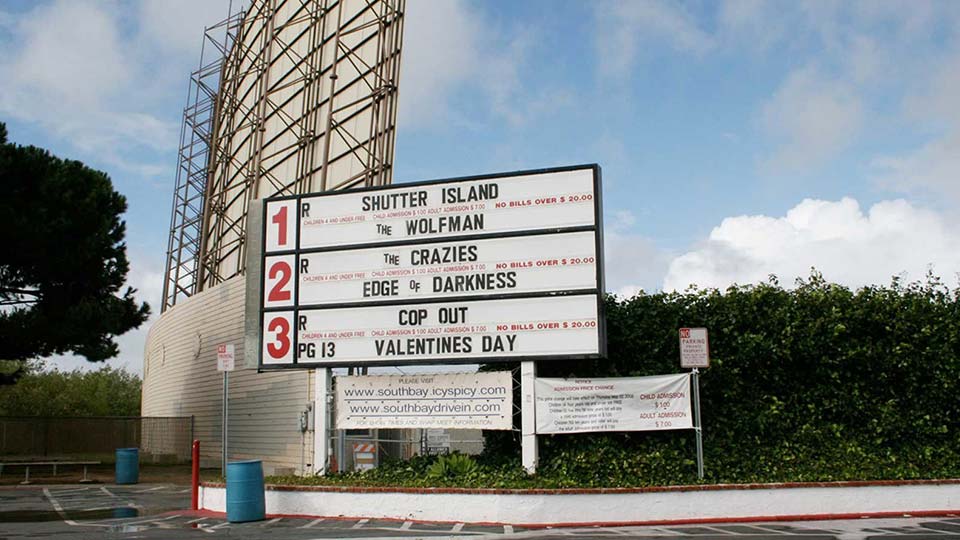 A residential neighborhood just south of Chula Vista and north of San Ysidro, Nestor is a little known part of South Bay San Diego with a mix of residential and commercial areas. It is home to Southwest High School, Mendoza Elementary School, and the Nestor Language Academy Charter School. It is also home to a notable historic landmark–the South Bay Drive-In Theatre. On weekends, the drive-in transforms into a very busy swap meet.
Bounded by I-5 to the east, it is conveniently located within a short drive of many popular destinations. A 15 minute drive north and you are in downtown, 10 minutes south and you've crossed the border to Tijuana, 10 minutes west and you've arrived at Imperial Beach.
Nestor Real Estate & Homes For Sale
Nestor real estate consists mainly of single-family homes, with some condos and townhomes. It remains one of the more affordable neighborhoods in South Bay San Diego. Condos and townhomes for sale start at around $375,000, while single-family homes list for $575,000 and above. Most Nestor homes are of modest size and either one or two-story.
Reflecting the strength of the San Diego real estate market, many Nestor properties are recently renovated. It's one of those neighborhoods that can quickly change as San Diego becomes ever more popular.
Otay Mesa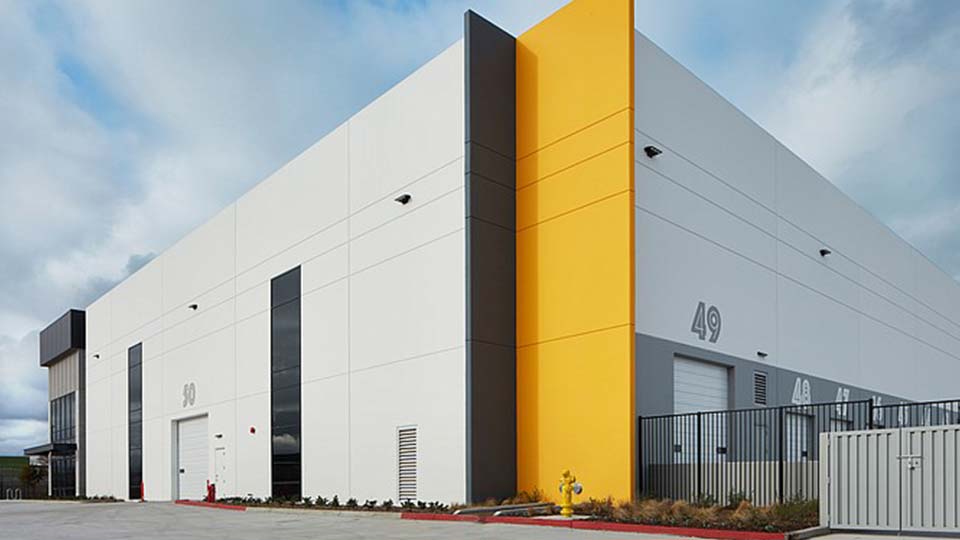 Located between Chula Vista to the north and the U.S.-Mexico border to the south, Otay Mesa is quickly transforming into a thriving industrial, commercial, and even residential community.
For the past several decades, Otay Mesa was defined by its industrial developments, consisting of indistinct warehouses and office buildings. In the next few years, new neighborhoods, new roads, a new border crossing, and a total re-invention of Brown Field Municipal Airport promise to redefine the character of this South Bay San Diego community.
The new Brown Field Municipal Airport will include three dozen new hangars, a large hotel, and 1.5 million square feet of retail, industrial, and office space. It will serve as the community's new commercial hub, and create over 4,000 new jobs.
Otay Mesa Real Estate: An Emerging South Bay San Diego Neighborhood
With vast new housing developments planned for the near future, Otay Mesa will soon offer some of the best values in San Diego real estate. With rent and land prices still relatively low, new homes are expected to be affordable relative to San Diego County. Various prominent builders are already on board. Among them, ColRich and Pardee Homes, who plan to build thousands of new housing units. Residential developments will be concentrated in the western part of Otay Mesa.
View Homes For Sale in Otay Mesa
Otay Mesa West: A South Bay San Diego Residential Enclave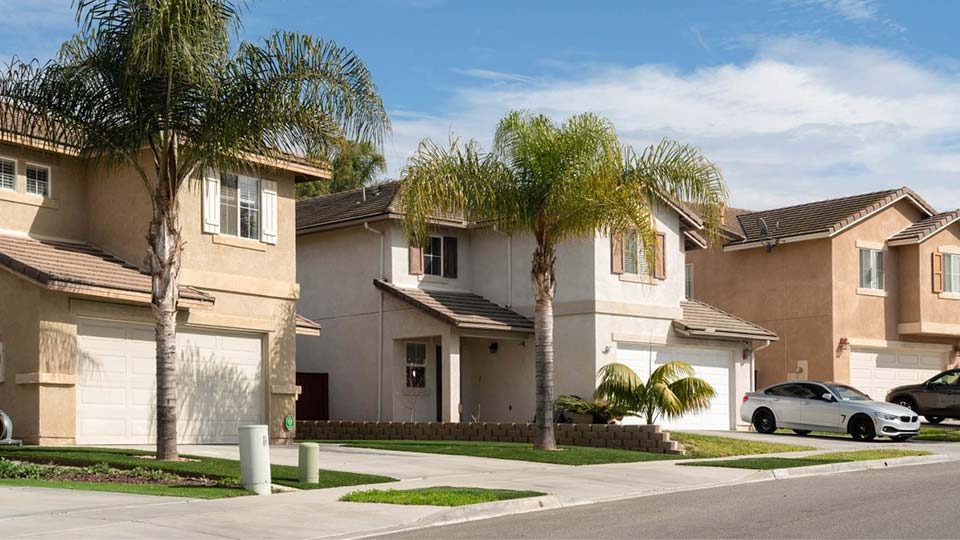 Otay Mesa West is one of the southernmost neighborhoods in San Diego. Situated a couple miles north of where the I-805 and I-5 merge into the Tijuana-San Ysidro port of entry, it is bounded by Otay Valley Regional Park to the north, and San Ysidro to the south.
Otay Mesa west is primarily a residential area. It has a high concentration of schools considering its small size. These include Montgomery High School, Montgomery Middle School, Southwest Middle School, Los Altos Elementary School, Silver Wing Elementary School, and Howard Pence Elementary School. There is also a United States Postal Service and a San Diego Police Department.
Otay Mesa West Real Estate & Homes For Sale
Real estate in Otay Mesa West is a good mix of single-family homes and condos. It remains one of South Bay San Diego's more affordable neighborhoods. While condo prices start at around $300,000, single-family homes list for $485,000 and above. Property sizes range in size from cozy to large family homes with 5 bedrooms.
If you are a first-time home buyer, or looking to move to San Diego but can't afford something central, Otay Mesa West is a good place to consider.
View Homes For Sale in Otay Mesa West
Ocean View Hills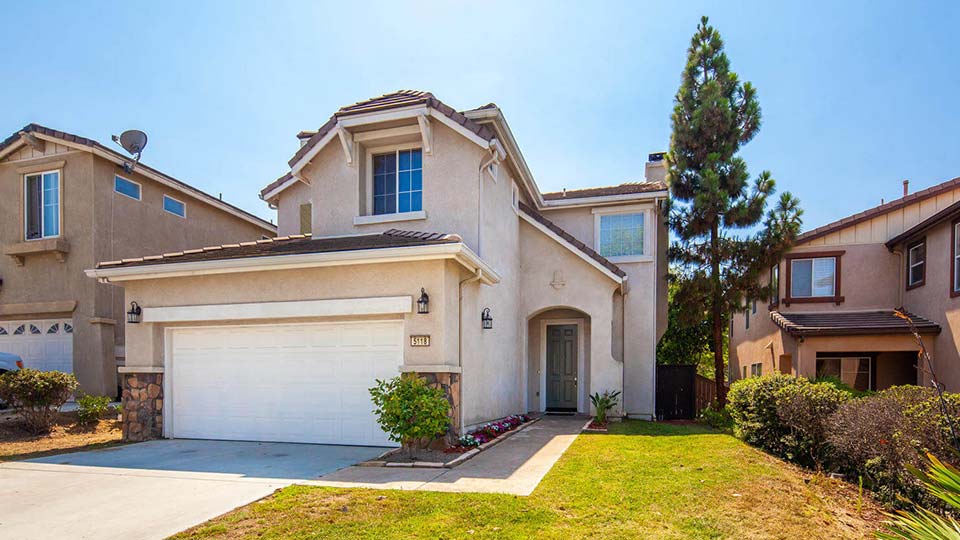 Bounded by the I-805 to the west and CSR-905 to the south, Ocean View Hills is an attractive South Bay San Diego community with a tranquil suburban ambiance. Major thoroughfares include Del Sol Blvd and Otay Mesa Road. This well established community dates back to 2000, with most major construction completed by 2005.
Apart from its residential areas, Otay Mesa West also includes shopping and recreation areas. Just east of the freeway is a Vons, Walmart, Home Depot, AMC theatre, and various other popular businesses. On the opposite end of the community is Ocean View Hills Corporate Center which offers warehouse and office space. For outdoor activities, there is Ocean View Hills Neighborhood Park and Ocean View Hills Hiking Trails.
Ocean View Hills Real Estate & Homes For Sale
Real estate in Ocean View Hills is an impressive combination of large, well-maintained single-family homes and modern condo developments. The most affordable properties start in the mid $400,000 range. Meanwhile, the most expensive list for upwards of $600,000. It is a pleasant place to live, with large open areas and a feeling of being closer to the countryside. Moreover, it is a very short drive away from Chula Vista and all it has to offer.
View Homes For Sale in Ocean View Hills
San Ysidro: South Bay San Diego Gateway to Baja California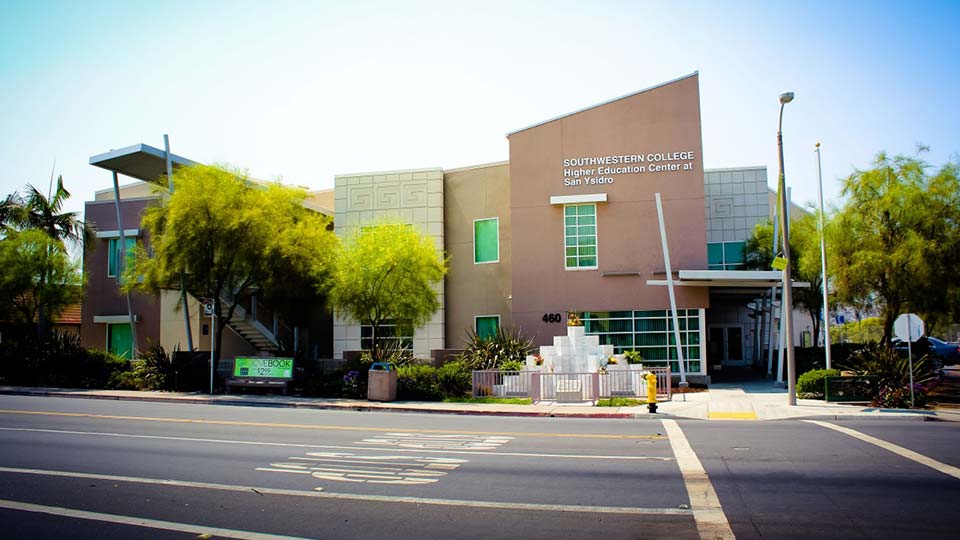 South of National City and Chula Vista, San Ysidro serves as the world's busiest land border crossing, where the U.S. Interstate 5 crosses into Tijuana, Mexico. Though many think of San Ysidro as a place to drive through to get to the border, this South Bay San Diego community enjoys a rich history and strong sense of community pride.
San Ysidro is always bustling with activity, as constant commuters cross south into Tijuana and north through San Ysidro. This steady stream of travelers sustains a robust local economy anchored by Las Americas Premium Outlets–a 560,000 square feet outlet mall located just west of the San Ysidro Port of Entry. A great variety of name brand outlet stores attracts shoppers from San Diego County as well as Tijuana.
San Ysidro Real Estate
San Ysidro has two main residential areas, one directly west of Las Americas Premium Outlets, and the other further north, away from the border crossing and south of CSR-905. Real estate for sale consists primarily of single-family homes, with some condos and townhomes.
It is among South Bay San Diego's most affordable neighborhoods, with condo and townhomes prices starting at under $300,000. Meanwhile, single-family homes list for $400,000 and above. There is a good mix of older and newer homes, as well as recently renovated properties.