San Diego Pros & Cons: Things to Know Before Moving to San Diego
Posted by Juan Valadez on Friday, March 24, 2023 at 9:33:15 PM
By Juan Valadez / March 24, 2023
Comment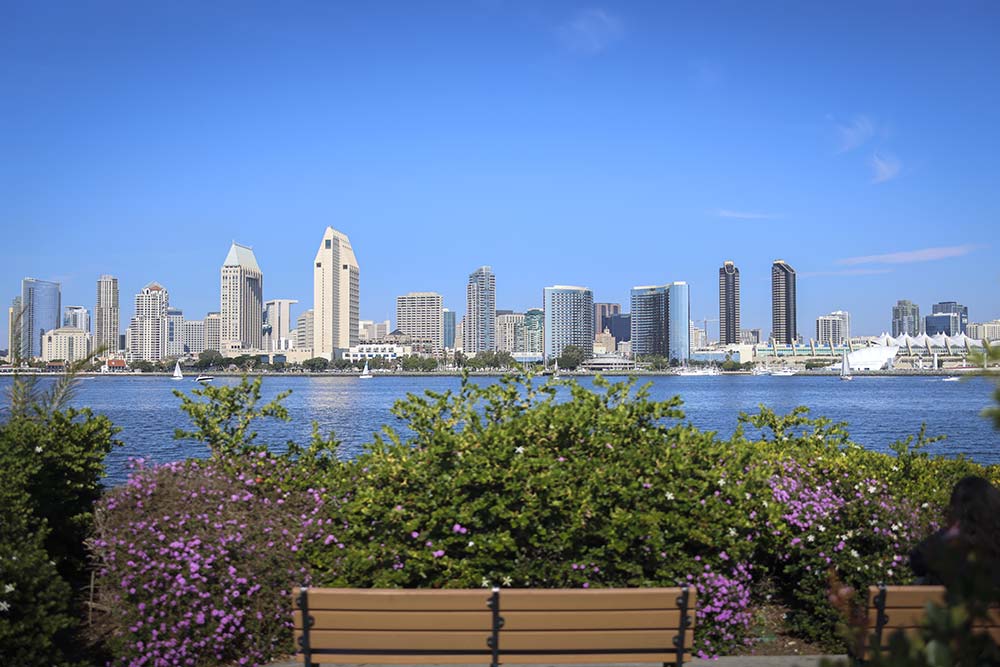 Considering moving to San Diego? There are few better paces to live. Not just in California, but in the whole country. San Diego truly has something for everyone.
Pristine beaches, a majestic countryside, perfect weather, and beautiful neighborhoods combine to form an exceptional city. Nicknamed "America's Finest City", San Diego lives up to its stellar reputation.
Not to say everything is perfect in this SoCal metropolis. Dense traffic and high housing prices will make some think twice before moving here.
We cover the essential pros and cons of living in San Diego. Anyone considering a move will want to weigh the pros as well as the cons.
Drop a line in the comments below if you have questions about moving to San Diego. Or contact us directly. We are always ready to help!
Moving to San Diego: Pros & Cons
The Pros of Living in San Diego
There are few places that compare to San Diego. These are our top favorite things about living in 'America's Finest City'.
San Diego County encompasses 4,300 square miles of diverse landscape that includes prime coastline, dense forestation, mountains, desert, fertile valleys, and rocky canyons. Majestic hills and mesas rise from the Pacific shore, converging with the Laguna Mountains to the east.
Comparable in size to Connecticut, San Diego county stretches 86 miles east to west and 65 miles north to south. It is bordered by Orange County to the north, Riverside County to the northeast, Imperial County to the east, and to the south.
The San Diego River runs east to west through the middle of San Diego. The resulting river valley divides the county ito northern and souther segments. Over time the river has altered its flow between Mission Bay and San Diego Bay. Its fresh water led the earliest Spanish explorers to this treasured region.
Out of California's 58 counties, San Diego is the second most populous. It is the fifth largest county in the country.
In spite of its high population, much of the county's land area is surprisingly rural. Agriculture is a linchpin of the rural San Diego economy.
The beaches in San Diego are simply spectacular. And there are many of them. They stretch across 70 miles of magnificent coastline. From southernmost Imperial Beach, to northernmost Ocean Beach, each one offers something unique.
There are family-friendly beaches, party town beaches, off-leash dog beaches, bonfire beaches, bike ride beaches, tide pool beaches, beaches ideal for surfing, and even a nude beach. San Diego has a beach for every lifestyle. In short, San Diego is every beach lover's dream.
Popular San Diego beaches include:
This pristine beach extends from Hotel Del Coronado north to Sunset Park. Its broad sands offer plenty of space, so it feels relaxing even when crowded. Thanks to a high concentration of mica mineral in the sand, Coronado Beach literally sparkles. It is consistently recognized as one of America's best beaches by Dr. Beach.
Public parking lots make it easy to find a good spot. But you should plan to leave early on busy days.
Ocean Beach can feel like taking a step back in to time with its glorious vintage vibe. Its diverse crowds include surfers, skaters, and plenty of dog owners. It is a favorite spot among locals who enjoy a day of riding waves, sunbathing, and exploring the tide pools to the south. Great dining, craft breweries, eclectic shops, and a lively night life scene round out this wonderful beach town.
Part of the Mission Bay coast, Pacific Beach stretches from Pacific Beach Drive to Crystal Pier. Locally known as 'P.B.', it is a popular spot among the college crowd and young adults. Its party atmosphere is supported by a varied collection of restaurants, bars, vacation rentals, and hotels. The most popular are just steps from the beach. Crowds are most active during weekends, summer, and holidays.
Outside the summer season and on weekdays the vibe becomes more mellow. One can enjoy a relaxing walk along the boardwalk. Though on any day, you can count on encountering some eclectic personalities.
A mile-long crescent of blissful sandy coastline, La Jolla Shores attracts a broad variety of beachgoers. From families, to surfers, to swimmers, to sunbathers, it is accommodating to all. Anchored by the Ellen Browning Scripps Memorial Pier to the north, and La Jolla Bay to the south, it serves as a launching ground for scuba diving and kayaking. At night the beach experience continues, illuminated by the warm glow of bonfires.
The beautiful sands of Tide Beach Park include a patch of reef for tide pooling. A long set of stairs leads down tall steep bluffs to a semicircular cove. This Solana Beach gem is seldom crowded, making it a good choice for sunbathing or a casual dip in the water. At high tide the beach is limited to the cove. Otherwise you can walk north to Seaside Beach or south to Fletcher Cove.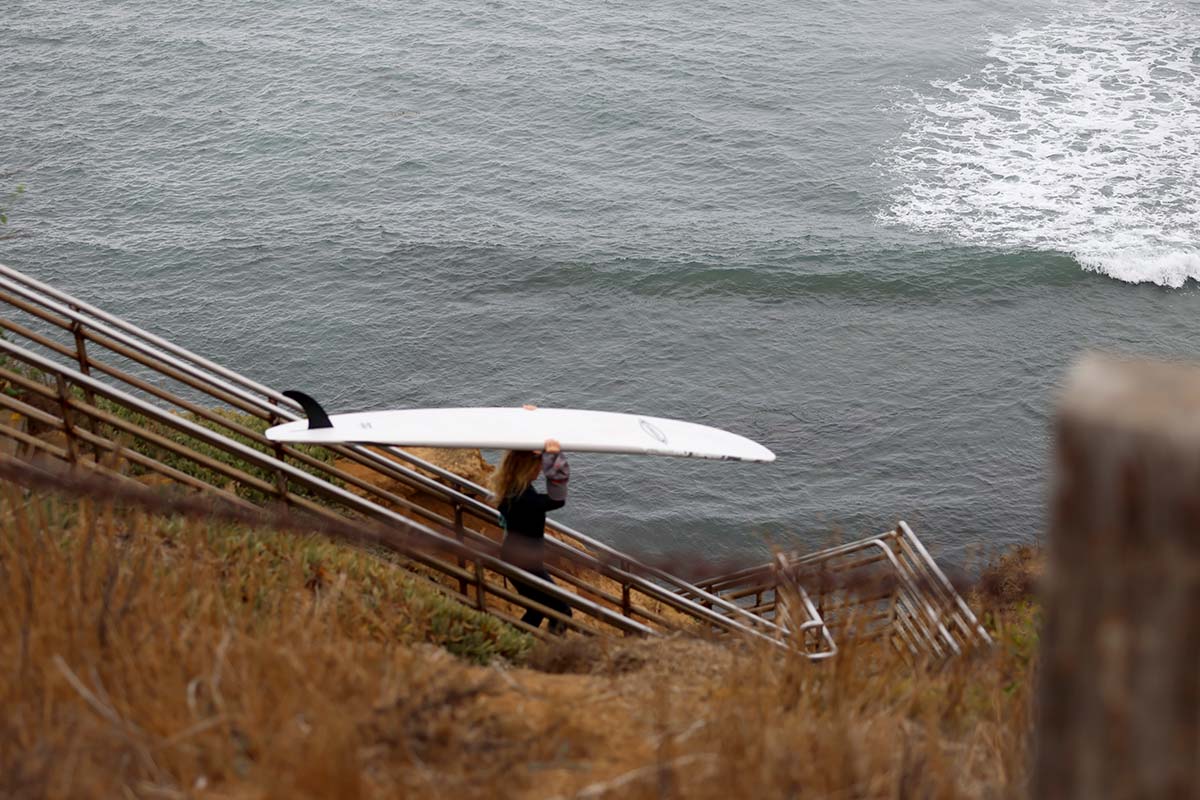 San Diego County covers over 4,500 square miles from the coast to the desert, with neighborhoods as diverse as its landscapes. Anyone can find the perfect place to live here. Even locals can be unaware of all the great places that surround them.
San Diego is not a giant metroplex like New York or Los Angeles. Its villages, downtowns, and farm towns are generously spread out. You never feel like you are stuck in one place.
San Diego neighborhoods can feel like self-contained worlds with distinct personalities. Each offers its own lifestyle experience.
There is a neighborhood in San Diego for everyone. From the hustle and bustle of Downtown, to tranquil countryside communities, to majestic coastal towns along cliffs and sands, there is an abundance of choice.
Coastal towns include Coronado with its pristine sparkling sands, Pacific Beach with its energetic party vibe, and luxurious La Jolla, Del Mar, and Solana Beach to the north.
For a more relaxed pace of life inland neighborhoods are an ideal option. The historic and prestigious Rancho Santa Fe is a picture perfect country paradise. Vista features a charming downtown with original art installations on every corner. Meanwhile, the custom homes of Mt Helix boast some of the best panoramic views in all San Diego.
The most difficult part of living in San Diego is choosing among so many great neighborhoods. Take time to learn and explore. They payoff will certainly be worth it!
For a more in depth exploration, read out list of the 10 best San Diego neighborhoods.
Outdoor living is a big highlight of living in San Diego. The mild weather lends itself perfectly to every outdoor activity under the sun and moon. From the mountains to the desert to the sea, the recreational possibilities are endless. With such an abundance of choices, the only issue is deciding.
Featuring 70 miles of coastline and sprawling bays, San Diego is an ideal place for water activities. Soak in the sun on pristine sands, master your surfing skills among a myriad of surf spots, or experience the magic of a bonfire under a full moon.
On weekends and throughout summer San Diego Bay and Mission Bay are full of activity. The most adventurous take to motor boats, water skis, and jet skis. While other prefer to relax on boats and yachts. An extensive network of marinas and wharfs support San Diego's large boating community.
If you love the outdoors, you will adore San Diego. There are few cities that boast such a variety of outdoor activities. From the beaches to the bays and beyond, San Diego is an outdoor wonderland.
San Diego is not only a boating paradise, but also a hiking and biking paradise. From the panoramic trails of Torrey Pines State Reserve, to the winding bike trails around Mission Bay, to the trek up Potato Chip Rock, memorable escapades await.
For family fun and relaxation, San Diego boasts world famous parks, gardens, historic centers, and zoos. Spend a day at San Diego Zoo with its 650 species of animals on a 100 acre park. Neighboring Balboa Park is a cultural oasis of museums, gardens, architecture, restaurants, and year round events. North in Encinitas, San Diego Botanic Garden is a 37 acre sanctuary of rare bamboo groves, desert gardens, tropical rainforest, and native plants.
There is also Legoland, San Diego Zoo Safari Park, Cabrillo National Monument, and so much more.
If you are raising a family or pursuing higher education, San Diego offers exceptional private and public schools. Its public schools include some of the best in the country. Meanwhile, high performing private schools from south county to north county provide diverse educational experiences.
When it comes to higher education UCSD stands at the pinnacle. It ranks among the top 3 US public institutions in terms of research output.
SDSU is also an impressive university. Founded in 1897, it is the oldest higher education institution in San Diego. It ranks among the top 50 public schools for best value and return on investment.
San Diego abounds in educational opportunities for students at all levels. From pre-kindergarten to graduate schools, there is no shortage of excellent options.
Not to be outdone, USD is a private Catholic school consistently ranked among the top 100 colleges in the US. Its beautiful campus overlooks Mission Bay. Graduate programs include a Tier 1 School of Law.
San Diego also boasts an extensive network of community colleges. They are a great option to accumulate college credits towards a university degree. Not to mention a myriad of associate degrees, accreditations, and certificates of completion.
San Diego's flourishing food scene is sustained by thousands of restaurants, bars, cafes, buffets, taverns, and other eateries. The range of cuisine is incredibly diverse and sure to satisfy any palate. Few cities in Southern California can compete. San Diego is blessed with perfect weather as much as incredible food.
The last decade has seen an explosion of iconic eateries throughout San Diego. From the always bustling Crack Shack, to the elegant NINE-TEN, to retro-glam Rare Society, the list is endless.
San Diego caters to every type of food culture. It's known for tacos and food trucks as much as for fine dining. Not to mention its incredible breakfast spots top-tier craft breweries. Your choices are only limited by preference.
The city's geography greatly influences local cuisine. With the ocean to the west and Baja to the south, there is an interesting intersection of styles. Fish tacos and Cali-Baja fine dining are signature regional cuisines. Traditional Mexican ingredients merge with Mediterranean flavors as the food scene continues to evolve.
San Diego is ideally located to take advantage of fresh ingredients. From the waters of Baja to the rich farmlands of California, culinary resources are plentiful. Enjoy exquisite farm-to-table steaks, seafood straight from the ocean, and delectable local produce.
With a cutting edge technology and research sector, the largest concentration of military in the world, and a booming tourism industry, San Diego has an extremely resilient and dynamic economy.
The U.S. Navy and the Marine Corps are two San Diego County's largest employers. Lockheed Martin, Northrop Grumman, Boeing Co., and Raytheon are well established with offices in the region. Meanwhile, General Dynamics NASSCO employs a multitude of engineers to design, build, and repair Navy ships.
San Diego's powerhouse economy is a dynamic mix of industries that range from hospitality to high tech. Whatever your professional background, there are sure to be great job options.
Education and healthcare are also prominent sources of local employment. The University of California–San Diego, Kaiser Permanente, and Sharp Healthcare are among the largest players. Other major players include San Diego State University, University of San Diego, and California State University–San Marcos.
With a burgeoning big tech industry, the future of San Diego employment is extremely bright. Many large tech companies are either primarily stationed here, or they have a significant presence. Some of the most successful include Qualcomm, EPAM Systems, ZS, Logic 20/20, Inc., Linus Health, ServiceNow, and ClickUp, among many others.
Moreover, as Silicon Valley and Bay Area real estate prices continue to climb, many tech workers are moving to San Diego as a more affordable alternative. Anyone seeking a job in big tech will want to seriously consider 'America's Finest City'.
Gateway to World Renown Destinations
One of the most unique benefits of living in San Diego is its proximity to so many great destinations. With Baja California Peninsula to the south, Los Angeles to the north, and Coachella Valley to the northeast, endless travel adventures await.
Baja California, with destinations like Ensenada, Los Cabos, La Paz, and Todos Santos, is perfect for summer vacations. Natural beauty, rich biodiversity, and luxury resorts attract crowds from around the world. Discover Baja's rich colonial history when you visit some of Mexico's first Spanish Missions.
Gateway to a life of adventure, San Diego is surrounded by great destinations. From the coast to the mountains to the desert, there is something beautiful to discover in every direction.
A two-hour drive north, Los Angeles is a city of tremendous variety and abundance. With 75 miles of coastline, a myriad of unique neighborhoods, world-class restaurants, and a trend-setting art scene, it is one of the most interesting places on earth.
To the northeast beyond the San Jacinto Mountains, the desert comes alive in Greater Palm Springs, the City of Eternal Sunshine. Its rich Hispanic heritage reflects in community events like Dia de los Muertos, authentic Mexican restaurants like Las Casuelas Terraza, and stunning Spanish revival architecture. Stroll the city's historic sidewalks as you encounter various beautiful murals painted by local artists.
With average temperatures in the low 70's, San Diego is a year round outdoor paradise. You seldom have to plan around the weather. Even in the middle of winter, you can count on mostly sunny days. Sure you might think twice about taking an ocean dip in the middle of winter, but you won't freeze if you do.
San Diego's Mediterranean climate is much more arid compared to other Mediterranean regions. Winters tend to be extra mild. It is some of the best weather in the world.
San Diego gets an average 12 inches of rain per year. The national average is 38 inches. On average, there are 266 sunny days per year in San Diego. It gets some kind of precipitation 38 days per year on average.
The annual BestPlaces Comfort Index for San Diego is 9.2. It is considered one of the most pleasant places to live in California.
San Diego is Culturally Diverse
San Diego has a rich multicultural history. It continues to diversify as it attracts people from around the world. The city takes great pride in preserving its heritage and culture. Festivals, neighborhoods, cultural centers, museums, and dining scenes reflect diverse cultures. African-American, Anglo-American, Asian-American, Latin-American, Native-American, Filipino-American, Jewish and more are all represented.
San Diego's warmth comes from its friendly people as much as its sunny weather. The city opens its arms to people from around the world, nurturing a rich diversity of inhabitants.
From the historic murals of Chicano Park, to the museums of Balboa Park, to Little Italy, to Old Town, San Diego's multicultural history is a joy to discover.
Looking for an arts and culture experience by the beach? Head north to the Oceanside Cultural District. Its wonderful mix of arts centers, craft breweries, and independent shops make for a great afternoon. The Oceanside Museum of Art is a must see with its immersive contemporary art. Meanwhile, on-brand California Surf Museum is always a fun stop.
The Cons of Living in San Diego
As great as San Diego is, it is not perfect. Here are the biggest cons of living in San Diego.
One of the most common complaints about living in San Diego is the traffic. As a large and growing metropolitan area, San Diego traffic comes as no surprise. According to INRIX 2019 Global Traffic Scorecard, San Diegans spend 70 hours per year in traffic congestion.
Major bottlenecks include La Jolla Village Parkway, Route 163 between Downtown and Interstate 8, and most of Interstate 5 and Interstate 15. Generally. The worst times are morning and evening rush hours.
Traffic can also become quite heavy around the beaches. Especially on summer weekends and certain holidays like 4th of July.
Even so, other big cities fare far worse. Take Los Angeles, where the average driver spends 103 hours per year in congested traffic.
The first thing to consider before moving to San Diego is cost of living. Especially if you are out of state. California taxes are among the highest in the nation.
A state of of paradoxes, California is home to the nation's richest and poorest cities. San Diego is certainly one of the richest. It is one of the most expensive and fastest growing cities in the state. Living here means paying a big premium for real estate.
The median sale price for a San Diego home exceeds $750,000. The city will only grow more popular in the future. Many tech workers are moving to San Diego as a cheaper alternative to the Bay Area. Housing inventory remains tight as listings typically attract multiple offers.
Not all San Diego neighborhoods are created equal. And some of them are downright difficult to tell apart. These neighborhoods that have fallen victim to urban sprawl, a problem that is not all too uncommon in 'America's Finest City'.
Urban sprawl is the rapid expansion of a city's geography, often in the form of low density residential housing. When it comes to San Diego, urban sprawl is most prevalent in inland areas away from the central region.
Though life is by no means bad in San Diego's outlying suburbs, they are not the most exciting places to live. For some, the relaxing pace of life is preferable to the busy urban scene.
The suburbs also tend to offer more house for your money. Where you might only afford a small condo Downtown, you can afford a home with a yard further east. It all depends on what your priorities are.
Considering Moving to San Diego?
We can help you find your perfect place.
Is a move to San Diego in your future? Are you considering a move but unsure if it's the right place for you? We can help you find your ideal home in your ideal neighborhood.
SD Home Guide agents go above and beyond to help clients achieve their real estate dreams. Contact us today and take the first step toward buying your San Diego dream home!