Cheapest Places to Live in San Diego
Posted by Juan Valadez on Sunday, March 26, 2023 at 8:46:21 AM
By Juan Valadez / March 26, 2023
Comment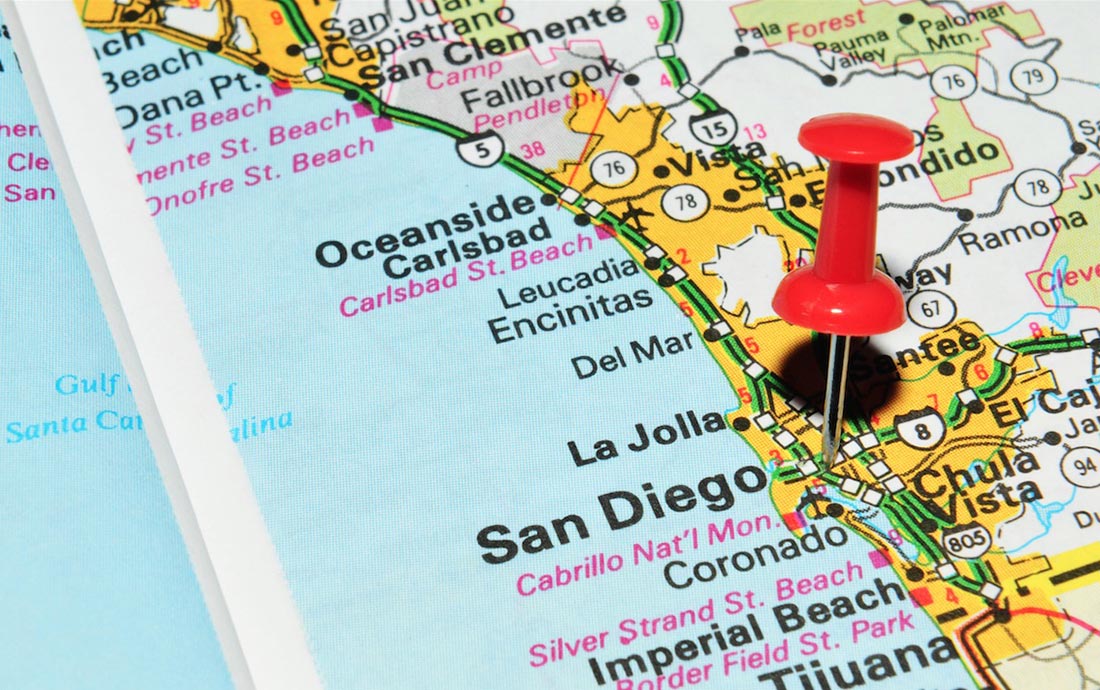 Known for its great weather, diverse mix of cultures, exceptional cuisine, beautiful beaches, and bustling social scene, San Diego is one of the most popular places to live in the country.
As home prices continue to rise, affordable San Diego neighborhoods become increasingly scarce. However, there are still several places where home prices remain relatively affordable.
The central and northern communities of San Diego tend to be the most expensive. You can find much better deals in eastern and southern communities. But as the county becomes more popular, it may not be this way for long. Currently, these are the most affordable San Diego neighborhoods:
El Cajon
The sixth largest city in the county, El Cajon remains one of the most affordable places to live in San Diego. The city boasts a vibrant and diverse community full of attractive residential neighborhoods, well-maintained parks, popular recreation and social centers, high-performing schools, public libraries, and other communal amenities.
El Cajon's dynamic business environment includes global and national corporations, in addition to independent retailers and small businesses. Taylor Guitars, among the world's top guitar manufacturing companies, is headquartered in El Cajon. The city is also home to Parkway Plaza, a sprawling retail mall with over 170 stores, restaurants, and entertainment venues. These include Regal Cinema, Best Buy, JCPenney, Dick's Sporting Goods, and so many more.
As a large city with many neighborhoods, El Cajon real estate varies greatly in terms of property types, architectural styles, and price. While the majority of properties are single-family homes, one can always find a decent selection of condos and townhomes for sale.
As of the most affordable places to live in San Diego, El Cajon real estate includes many properties under $500,000. Meanwhile, the most expensive homes list above $1,000,000. If you are looking to establish roots in San Diego County, El Cajon is certainly worth a look.
Imperial Beach
Imperial Beach was almost excluded from the list. That is because this residential beach city is improving rapidly. From an enhanced main boulevard, to a slew of posh new restaurants, to renovated parks, and there is much to love. Even with all these improvements, it remains one of the more affordable places to live in San Diego. However, as Imperial Beach transitions from sleepy beach town to swanky beach town, home prices will continue to rise.
Located in the southwest corner of San Diego County, Imperial Beach is a mere five miles north of Mexico, and encompasses a 4-mile stretch of beautiful beachfront. Surfing, fishing, horseback riding, volleyball, and general recreation all await you along the coast.
Meanwhile, the Imperial Beach Pier offers sweeping views Coronado Bridge, Los Coronados Islands, and Playas de Tijuana, not to mention spectacular sunsets. The city connects to Coronado via Silver Strand, a 7 mile isthmus that includes Silver Strand State Beach, biking routes, and camping spots.
Despite its increasing popularity, Imperial Beach real estate includes a substantial amount of affordable options. Homes for sale in Imperial Beach start in the low $300,000 range. The most affordable properties are 1-2 bedroom condos and townhomes. These range in size from around 600 sq ft to around 1,200 sq ft. Larger condos and single-family homes with 3 bedrooms or more quickly increase in price and past the $500,000 mark.
View Imperial Beach Homes For Sale
Lemon Grove
Located just a few miles east of Downtown San Diego, Lemon Grove offers the charm of small-town life with the conveniences of a big city. Originally made famous by its thriving lemon industry, and by its motto of 'Best Climate on Earth', the city enjoys a rich historical heritage. With new commercial and residential developments, in addition to various revitalization projects, municipal leadership is working hard to ensure the community's future.
Not only does Lemon Grove feature the best climate on earth, it remains one of the most affordable places to live in San Diego. Median home prices are below the county average, and still below the $500,000 mark.
The majority of real estate for sale is made up of single-family homes. Though many of these are older homes, they have been upgraded and renovated over the years. It is not uncommon to find custom kitchens, hardwood floors, upgraded bathrooms, and expansive yards.
One the other hand, if you are looking for a fixer-upper–a place you can upgrade yourself–Lemon Grove is an ideal place to look. A significant portion of properties are in disrepair, and can be purchased at competitive prices, with the intent to repair and renovate for habitation or resale.
View Lemon Grove Homes For Sale
National City
National City is steadily becoming a popular local destination, and remains one of the cheapest places to live in San Diego. The second oldest city in the county, National City is truly in the center of it all. Its central location gives it a strong competitive edge, not to mention a robust transportation network, and thriving business industry. National City is a short drive from multiple notable areas including downtown, the US-Mexico border, San Diego International Airport, Balboa Park, and so much more.
Real estate for sale in National City offers the chance to live in a central San Diego location without paying exorbitant prices. While single-family homes dominate the National City housing market, one can also find condos and townhomes, often at lower price ranges. As a matter-of-fact, some units are priced under $200,000, a rarity in San Diego. Meanwhile, single-family homes start in the low $400,000 range.
If you are looking to move to San Diego, and want to stay central without breaking the bank, National City is a great place to start. As the city continues to grow and improve, National City home prices are expected to rise. It's a good time to get in on something that can quickly change.
View National City Homes For Sale
San Ysidro
Located between the Mexican border to the south and Chula Vista to the north, San Ysidro is vibrant and growing neighborhood. With the busiest port of entry in the country, there is a constant flow of visitors, sustaining a strong local economy. More recently, San Ysidro has established itself as a residential community of home owners, with new and expanding residential developments.
Even with all this expansion, San Ysidro remains one of the most affordable places to live in San Diego. It is one of the few places left with properties under $300,000, though these are limited to condos and townhomes. Single-family homes start in the high $300,000 range, with the most expensive listed above $500,000.
View San Ysidro Homes For Sale
Spring Valley
A mainly suburban community in East San Diego, Spring Valley is surrounded by natural beauty including rolling hills, scattered woodlands, and seasonal creeks. Spring Valley is situated just south of El Cajon and north of La Presa. Neighborhoods range from dense suburban developments to rural developments where homes sit on multi-acre plots.
As a community on the periphery of San Diego, growth has been relatively slow. However, this is quickly changing as demand for continues to soar. As of now, Spring Valley remains one of the cheapest places to live in San Diego County, with home prices that remain below average.
Spring Valley has many homes for sale spread over a broad area. Property types include a good mix of single-family homes, condos, townhomes, multi-family properties, and even land. As a matter of fact, it is one of the places left in San Diego where one can still find plenty of lots for sale. Some condos and townhomes still list for under $300,000, providing a great opportunity to first-time home buyers who are looking to enter the market without breaking the bank. Meanwhile, single-family homes list between approximately $400,000 and $800,000, with a handful of homes approaching $1,000,000 or more.