10 Best San Diego Neighborhoods
Posted by Juan Valadez on Saturday, March 25, 2023 at 11:26:44 AM
By Juan Valadez / March 25, 2023
Comment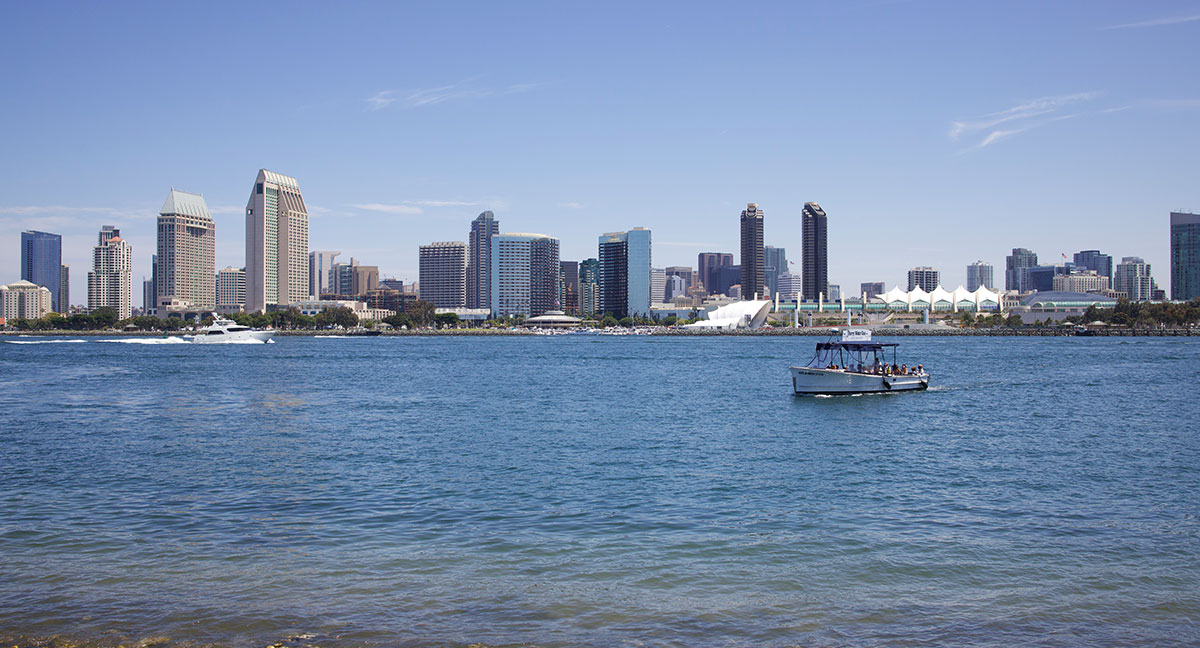 San Diego is a thriving area with a great variety of wonderful neighborhoods. From the golden coast of La Jolla, to the resort-style ambiance of Rancho Santa Fe, to the historic homes of Mission Hills, there is an abundance of riches. We put together a list of the 10 best San Diego neighborhoods.
Connected to Downtown via the iconic Coronado Bridge, Coronado is consistently voted one of the best places to live in San Diego. Even more impressive, Dr. Beach places Coronado among the top ten beaches in the country. Its majestic coastline that attracts visitors from far and wide throughout the year.
Sunny weather, wide sandy beaches, gentle surf, an enchanting main street, historic mansions, eloquent gardens, and the infamous Hotel Del Coronado add up to a perfect island paradise. It is little wonder this charmed San Diego neighborhood has been dubbed 'The Crown City'.
Recreation, Shopping, & Dining in Coronado
Orange Avenue
A stroll down Orange Avenue is a journey of delightful discoveries. Coronado's main artery is lined with independent shops, fine dining restaurants, art galleries, and the one of a kind Coronado Museum of History & Art.
Coronado Ferry Landing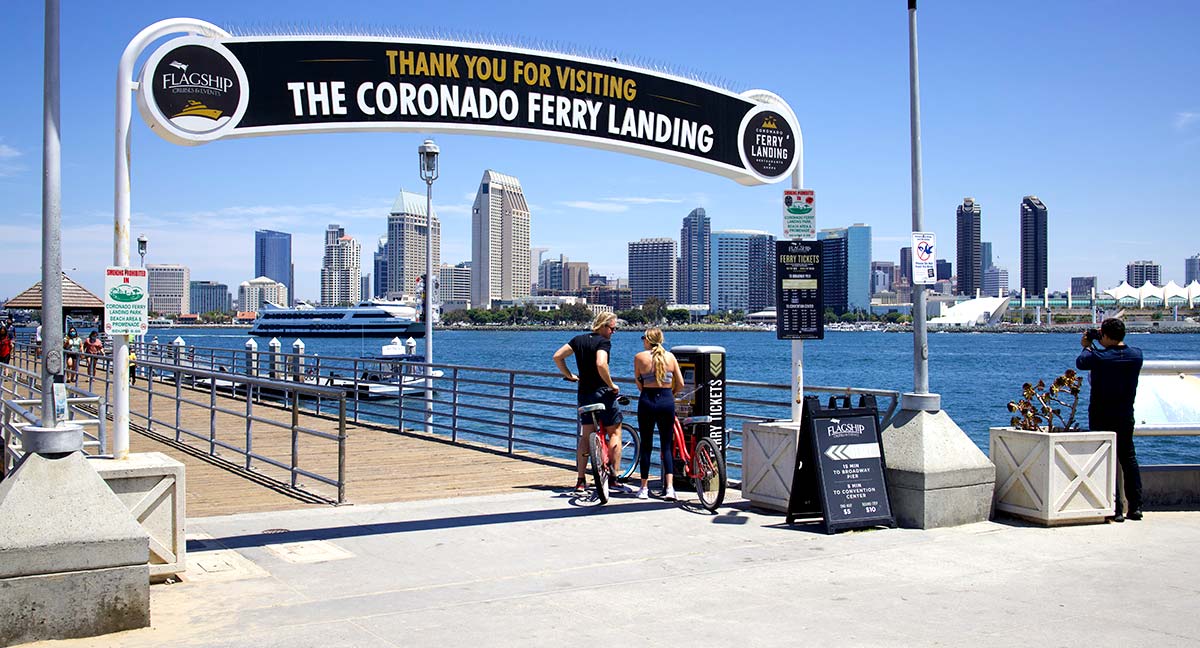 On the opposite side of the island, Coronado Ferry Landing features an eclectic collection of shops, restaurants with breathtaking waterfront views, and art galleries. You can even take a ferry to Seaport Village across the bay, courtesy of Flagship Cruises
Hotel Del Coronado
No Coronado experience is complete without a visit to the iconic Hotel del Coronado. Built in 1888, this National Historical Landmark has a rich and storied past that includes presidents and royalty, celebrities and socialites, and even legends of ghosts! Its classic Victorian architecture makes its one of the most distinct hotels in the United States.
More Coronado Highlights
For those who wish to venture beyond the beach there is sailing, surfing, kayaking, stand-up paddling, and even Venetian gondola cruises.
Enjoy top-tier golf on Coronado's Public Golf Course, lauded as 'the best value in the United States' by Golf Digest.
The Coronado Flower Show, held every spring since 1922, attracts locals and tourists alike.
Schools in Coronado
With its high performing schools from preschool through high school, Coronado is a great place to live and learn. The Montessori preschool experience is available five days a week at Sandpiper Montessori School. Graham Memorial Presbyterian Church offers a highly regarded weekday preschool at its historic location.
The private schools Christ Church Day School and Sacred Heart Parish School provide instruction for grades kindergarten through sixth and kindergarten through eighth respectively.
The City of Coronado is served by exceptional public schools including two elementary schools, one middle school, and one high school. Silver Strand Elementary, Village Elementary, Coronado Middle School, and Coronado High School all enjoy very high ratings on GreatSchools.org.
There are also great options for specialized education. CoSA School of the Arts—an arts conservatory at Coronado High School—offers instruction for grades 9-12 in dance, film, theater, music, graphic arts, and much more. It is the ideal place for those creative types. Meanwhile, Palm Academy—also an adjunct of Coronado High School—offers an alternative educational approach.
Coronado schools are consistently recognized for their academic excellence. Not only in San Diego County but throughout the state of California.
Real Estate in Coronado
Coronado boasts a large collection of exquisite homes and luxury condos. Enjoy the beach and everything Coronado has to offer, but be ready to pay a premium. Coronado home prices are among the highest in San Diego County. The lowest priced properties, just under a million $1,000,000, are mostly condos. On the opposite end of the price spectrum, the most exclusive estates list for $10,000,000 and above. With everything Coronado has to offer, the high price of real estate comes as no surprise.
From bay front architectural masterpieces, to historic gems on spectacular lots, to modern condos with sweeping oceanic views, there is no shortage of highly desirable properties in Coronado. Most homes are custom built and in great condition. Though land is extremely limited, there are usually a handful of new construction projects.
When it comes to the best neighborhoods in San Diego, there are few that compare to Coronado. This centrally located San Diego treasure is an enchanted place, and living there a unique pleasure.
Point Loma Peninsula is an inspirational place of dramatic contrasts. The historic Cabrillo National Monument recalls San Diego's rich history. Meanwhile, posh neighborhoods and a great variety of accomodations represent its bountiful present.
Recreation, Shopping, & Dining in Point Loma
A jewel in San Diego's crown, Point Loma is full of hidden treasures. From the historic village center, to Harbor Island and Shelter Island, there are many hubs of activity–places where you can eat, play, have a great time, and meet your neighbors.
Cabrillo National Monument
Explore the history of California at Cabrillo National Monument. The Old Point Loma Lighthouse stands watch over the entrance to San Diego Bay. Though no longer in operation, it is meticulously maintained. At the southern tip of the peninsula, the 'New' Point Loma Lighthouse has taken its place. Meanwhile, the Cabrillo Statue commemorates Juan Rodriguez Cabrillo and hs 1542 landing on the shores of San Diego.
In addition to its historic attractions, Cabrillo National Monument is a place of immense natural beauty. Its elevated peninsular location opens up immersive views of the bay, downtown, and the ocean.
A pleasant hike takes you down to the rock intertidal area. Teeming with rich sea life, it is one of the best protected tidepool areas in California.
Liberty Station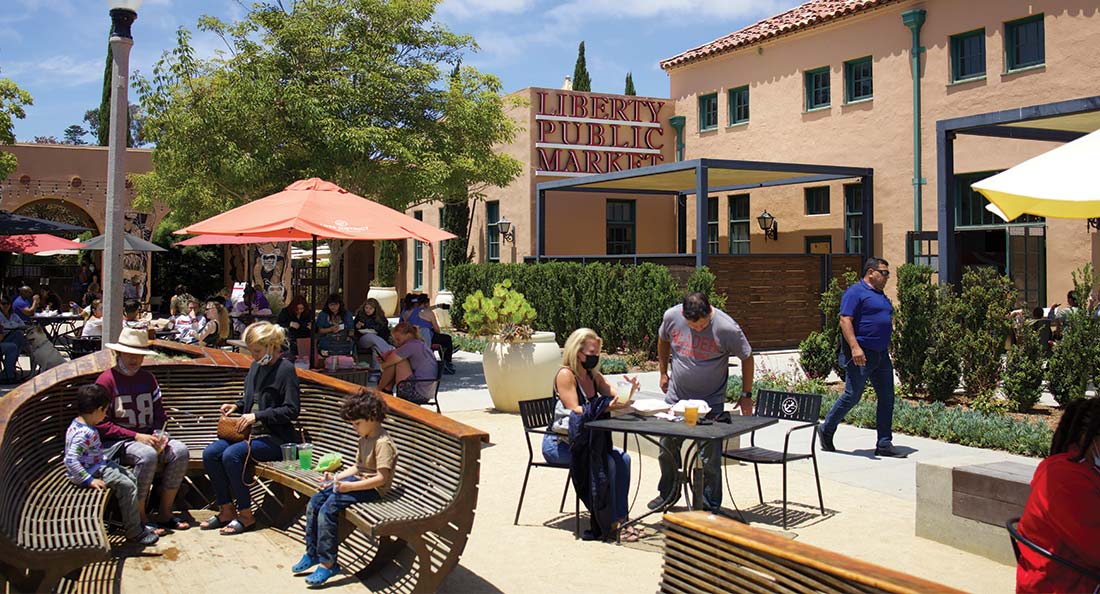 Once a Naval Training Center, Liberty Station shines as a sprawling waterfront urban village. Its many hotels, fine restaurants, and craft breweries are sure to impress. The popular Liberty Public Market is filled with all the prepared food, beer, wine, and pastries one can imagine.
Not just a place to have fun, Liberty Station is the cultural heart of Point Loma. Dozens of museums, art galleries, design studios, dance companies, educational centers, schools, and other organizations bring together San Diego's creative community.
Another Liberty Station highlight is The Loma Club Golf Course. This funky, out of place nine-hole course is a leftover from the naval training facility. You don't need to golf to enjoy the club. A delicious food and drinks menu make it a fun and inviting space for everyone.
Shelter Island
As one of San Diego's principal boating centers, a nautical atmosphere permeates Shelter Island. Marinas, resort hotels, fine dining restaurants, and bayside parks welcome all with the promise of memorable experiences. Many short and long-range sportfishing trips depart from its harbors.
It is also home to Humphreys Half Moon Inn & Suites. Their summer Conerts by the Bay attract nationally known musicians and comedians. Since 1982, Humphreys has showcased legendary entertainers in an intimate, 1,450-seat outdoor concert venue.
At the southern tip of Shelter Island, Yokohama Friendship Bell rests serenely inside a pagoda statue. The gorgeous bronze bell was a gift from the city of Yokohama, Japan in 1958 to commemorate its sister city status with San Diego.
Schools in Point Loma
Point Loma is home to a strong network of cluster schools. The cluster consists of 9 public schools concentrated in the northern half of the peninsula. Part of the San Diego Unified School District, these schools serve over 6,400 students grades K-12.
Elementary schools include Cabrillo, Dewey, Loma Portal, Ocean Beach, Silver Gate, and Sunset View. Middle schools include Correia and Dana. High schools include Point Loma.
Notable charter and private schools include Rock Academy and High Tech High, both located within Liberty Station.
Real Estate in Point Loma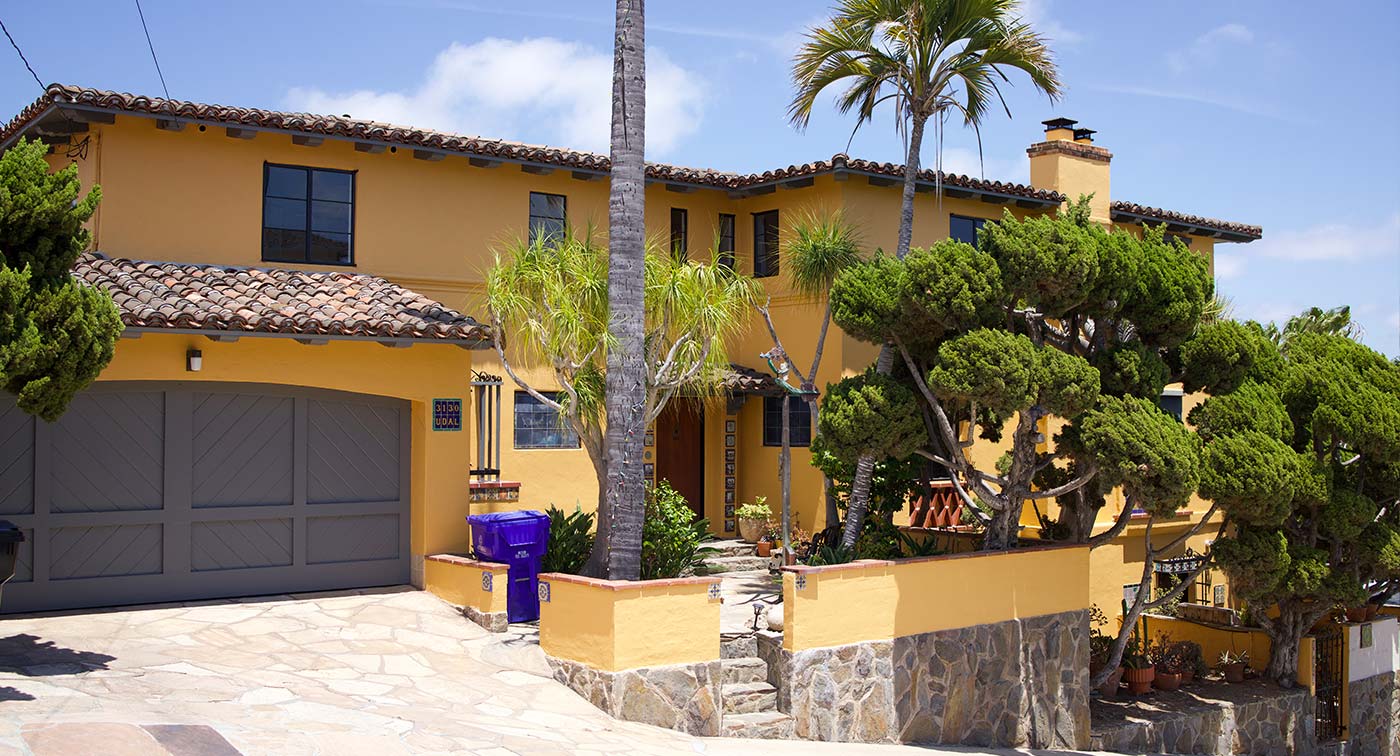 As one of the best neighborhoods in San Diego, home prices in Point Loma are higher than average. However, inventory includes condos under 1 million, putting the neighborhood within reach of more buyers.
Point Loma's impressive collection of single-family homes includes historic gems, charming renovations, and iconic gated estates with resort-style amenities. Most homes are unique, and many are recently upgraded. If Point Loma ever had a humble past, its ever improving neighborhoods make it difficult to decipher.
Imagine walking down a bay front city park on a perfect sunny day. Leaves rustle in the gentle breeze as children play in the grass. In the distance you can see the Seaport Village crowds, a lively mix of locals and tourists. Across the bay, Coronado Bridge rises above the water in its simple elegance. Looking towards the city, towering luxury condos glisten in the sun, dazzling with their modern architectural details. Welcome to Marina District in Downtown San Diego.
Recreation, Shopping & Dining in Marina District
The Marina District is a hub of activity rich with places to go and things to see. Classy restaurants, waterfront parks, deluxe hotels, and a myriad of marina destinations secure its status as one of the best neighborhoods in San Diego.
Restaurants
There is a high concentration of quality restaurants in this Downtown neighborhood by the water. Eddie V's is an established favorite with its premium seafood and stake. The Lion's Share is an ideal hangout with its handcrafted drinks and intimate, moody setting. Veteran eatery Salvatore's serves refined Italian fare in a white tablecloth space. Top of the Market serves high-end seafood in a spectacular setting with bay views. For Mexican La Puerta is a chill Mexican spot offering signature drinks and family recipes.
Seaport Village
Seaport Village is a 14 acre shopping, dining, and entertainment complex by the bay. Its charming design harkens back to a simpler time of humble fishing villages. Four miles of cobblestone pathways wind their way through the village, bordered by ponds, fountains, and ornate landscaping. There is also a quarter mile stretch of boardwalk along San Diego Bay. With over fifty shops, seventeen eateries, and four bay view restaurants, there is a great deal to enjoy and discover.
USS Midway Museum
The USS Midway Museum is an unforgettable exploration aircraft carrier history. Self-guided audio tours, flight simulators, and climb-in aircraft models bring the experience to life. Enjoy spectacular views atop the flight deck, including of the Downtown skyline, Coronado Bridge, and the myriad of ships that populate the bay.
San Diego Convention Center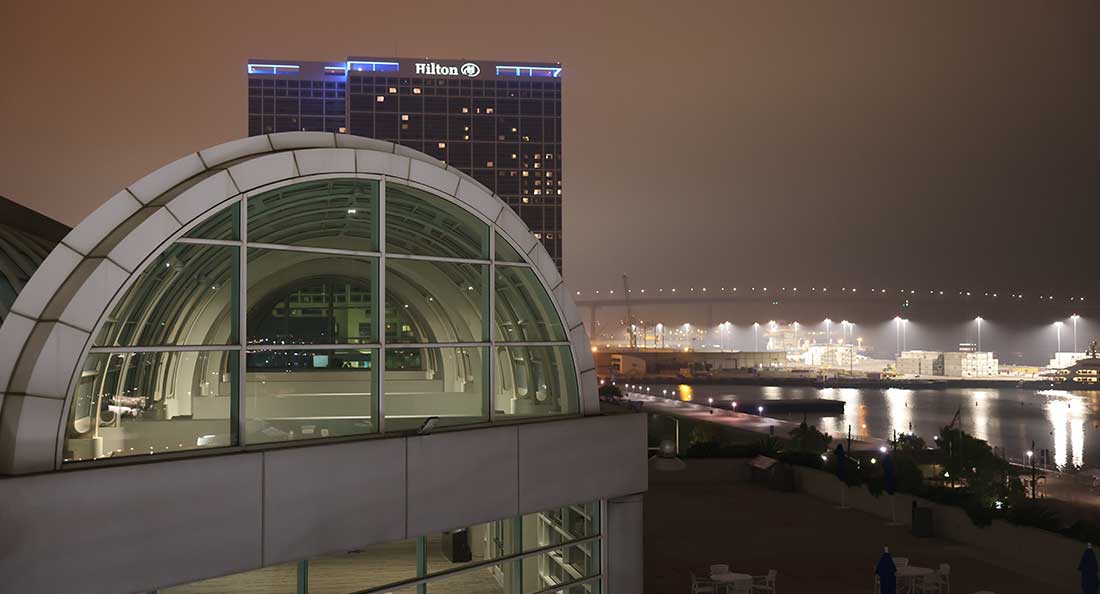 Featuring a 615,000-foot glass enclosed 'Sails Pavilion' with maritime-themed architecture, the San Diego Convention Center is one of the largest in the country. Its interiors are immaculate, spacious, and full of sunshine. It hosts many popular conventions throughout the year, including the wildly popular Comic Con. Harbor Drive Pedestrian Bridge connects it to Gaslamp Quarter and East Village. With a constant flow of visitors, the convention center is a boon to San Diego's economy.
World Class Hotels
The Marina District is home to world-class hotels with unparalleled amenities and spectacular bay front locations. The Marriott Marquis San Diego Marina offers the all the services you expect of a luxury hotel. Every hotel room and suite features impressive views of San Diego Bay. The iconic Manchester Grand Hyatt sets itself apart with two rooftop pools, oversize windows that open to let in the sea breeze, and picturesque views, and spacious rooms. Embassy Suites is right on the waterfront and just a five minute walk to Seaport Village.
Embarcadero Marina Parks
The North and South Embarcadero Marina parks are joined by the South Embarcadero Esplanade extending along the bay front. Embarcadero Marina Park North invites you to relax in its open lawn areas behind Seaport Village. Embarcadero Marina Park South hosts various concerts and festivals on its spacious open lawn. Basketball courts, gazebos, and a fishing pier round out this popular Downtown park.
The New Children's Museum
The New Children's Museum stimulates imagination and critical thinking through engaging experiences with contemporary art. Its multi-level 50,000 sq ft building is an architectural wonder with 'transparent' spaces revealing the building's construction and design. Interactive installations and hands-on activities fill its wondrous rooms and halls. Designed by award-winning architect Rob Wellington Quigley, it is one of California's first green museums.
Schools in Marina District
While there are no major schools directly within the Marina District, exceptional schools abound in surrounding neighborhoods, even within walking distance. They include LEARN Academy, The Charter School of San Diego, e3 Civic High, King Chavez Community High School, IDEATE High Academy, San Diego High School, East Village Middle College High School, Garfield Senior High School, and Urban Discovery Academy.
Real Estate in Marina District
When it comes to condo living, The Marina District boasts a singular collection of exclusive and iconic high rises. Harbor Club is one of the most celebrated high rises in San Diego. Its amenities include a 95-foot swimming pool a jacuzzi, and 24-hour lobby attendants. The more down to earth Crown Bay Condos are known for their competitive homeowners association fees. Park Place Condominium is a towering 178-unit, 30-story luxury project on the northwest corner of Harbor Drive and Kettner Boulevard. The Watermark is a unique mid-rise covering a full city block. With only 96 units, resident enjoy spacious residences and non-tandem parking spaces.
It would be impossible to find a list of best neighborhoods in San Diego that does not include La Jolla. Ideally located along seven miles of coastline, La Jolla earns its name as 'The Jewel of America's Finest City'. With a rich history that includes the whimsical tales of Dr. Seuss and 'Old Hollywood', La Jolla further adds to its unique appeal. While the city's majestic natural landscape is its main attraction, countless activities, experiences and adventures await.
Recreation, Shopping, & Dining in La Jolla
With its incredible beaches, diverse fine dining, posh boutiques, unique museums, and exclusive art galleries, La Jolla offers the ultimate Southern California experience. Top attractions include La Jolla Cove, La Jolla Shores Park, Birch Aquarium at Scripps, Windansea Beach, and the Torrey Pines Gliderport.
For an unforgettable dining experience there is NINE-TEN Restaurant & Bar, A.R. Valentien at the Lodge at Torrey Pines, Eddie V's Prime Seafood, Piatti, Shorehouse Kitchen, and so many more.
Schools in La Jolla
Education in La Jolla is highly ranked by both parents and teachers. Moreover, test scores are consistently above average. And according to GreatSchools.org, La Jolla includes many schools with a 9-10 rating across all grade levels.
Public elementary schools include Bird Rock Elementary School, La Jolla Elementary School, and Torrey Pines Elementary School. For middle school there is Muirlands Middle School. High schools include La Jolla High School and Preuss School UCSD. Private schools are very popular in La Jolla. There are very prestigious ones at all levels, from preschool to high school. Click here for a full list of La Jolla private and charter schools.
Real Estate in La Jolla
La Jolla is one of San Diego's premier luxury real estate markets. It is known for its stacked hillside homes overlooking the ocean. Some with direct access to the beach via private stairways and passages. From ultra-exclusive beach front estates, to perfectly maintained single-family homes, to luxury condominiums, La Jolla real estate has it all.
Located north of ritzy Del Mar and south of eclectic Encinitas, Solana Beach offers a laid back, small-town atmosphere that compels you to slow down and smell the roses. Seaside bluffs provide immersive views of the tranquil shoreline and expansive ocean. Its Cedros Design District is one of the best shopping districts in San Diego County. Together with an impressive variety of restaurants and nightlife, Solana Beach has a lot to offer.
Recreation, Shopping, & Dining in Solana Beach
Cedros Design District
The heart Solana Beach is the renowned Cedros Design District. With its varied arts and music venues, art galleries, antique shops, local breweries, European-style cafes, and prized restaurants, you will never run out of things to see and do.
Every Sunday, Cedros Design District adds to its repertoire with a locally sourced farmers market. Seasonal fruits and vegetables, baked goods, and all sorts of artisan wares are on wonderful display.
Restaurants
Solana Beach hosts a delightful array of unique restaurants. Claire's on Cedros is a LEED-certified cottage focused on sustainable cuisine. Fresh-baked pastries and bread are complemented by exceptional California-style comfort food. For pizza there is Pizza Port, a long-time favorite offering wholegrain beer crust. Meanwhile, Tony's Jacal has been serving old-school Mexican food since 1946.
Belly Up
The historic venue Belly Up has attracted countless musical legends since its inception in 1974. Recent major artists include The Killers, The Red Hot Chili Peppers, Willie Nelson, and Tom Jones. Most famously, the Rolling Stones played a private event in 2015.
North Coast Repertory Theatre
For the more cultured among us, North Coast Repertory Theatre stages award-winning productions by established and emerging playwrights in an intimate setting. Its doors have been open for almost 40 years going back to 1982.
Beach & Outdoor Life
Solana Beach is an outdoor haven—a paradise for nature lovers and outdoor enthusiasts. Its famous Coastal Trail is a 1.7 mile beachside path perfect for walking, jogging, and biking. Along the trail, one encounters award-winning artwork and landscaping. It is a truly unique experience.
Fletcher Cove Beach is a small inlet popular for swimming, surfing, kayaking, and fishing. Over at Tide Beach Park a large reef and tide pools bustle with life. It is a very accessible beach popular with families.
Schools in Solana Beach
Solana Beach is an affluent community with many high-performing private schools and top-ranked public schools. Solana Vista Elementary School enjoys a 10/10 rating on GreatSchools.org. Notable private schools include Fusion Academy Solana Beach, Santa Fe Montessori School, and Keystone Academy. Click here for a full list of Solana Beach schools.
Real Estate in Solana Beach
Solana Beach has a good mix of condos and single-family homes with prices ranging from below $1M to over $8M for the most exclusive properties. More upscale homes boast impressive features including panoramic ocean views, award-winning architecture, direct beach access, beautiful landscaping, and all types of luxurious upgrades.
Solana Beach real estate has appreciated considerably over the years. Most listings sell quickly and attract multiple offers. Inventory remains perpetually low.
If you want to buy a Solana Beach home, it's important to act quickly and be ready for competing offers. In the end, the effort is well worth it. Solana Beach is undoubtedly one of the best places to live in San Diego.
Named one of the 20 best surf towns in the world by National Geographic, Encinitas embraces its surfing heritage. Covering six miles of Pacific Ocean coastline, Encinitas hearkens back to a simpler time. When historic surf culture first thrived along Highway 101. Encinitas manages to maintain that old time feeling.
Incorporated in 1986, Encinitas brings together the communities of New Encinitas, Old Encinitas, Cardiff-by-the-Sea, Olivenhain, and Leucadia. With its pristine beaches, rolling hills, and a vibrant downtown business district, Encinitas attracts visitors from around the world. It easily earns its place among San Diego's best neighborhoods.
Recreation, Shopping, & Dining in Encinitas
An eclectic downtown offers a unique blend of independent surf shops, vinyl record stores, and hip coffeehouses. Not to mention some of the most popular surf spots in Southern California. Encinitas is a place of hidden gems.
Flower Capital of the World
Known as the 'Flower Capital of the World', Encinitas features an extensive collection of nurseries and gardens. The largest and most well known is the San Diego Botanic Garden. It boasts one of the most elaborate poinsettia collections in the world.
La Paloma Theatre
San Diego's oldest theatre, La Paloma Theatre has been open since 1928. Its historic Spanish Colonial Revival style building really takes you back. The inside includes handmade and painted floor tiles.
Fairs & Festivals
The annual Encinitas April Street Fair comes to life two days every Spring. It is a free event that brings together a wonderful array of vendors. Explore original arts and crafts, delicious local food, and multiple stages with live music.
Not to be outdone, the Encinitas Fall Festival goes all the way back to 1989. Live entertainment, children's rides, and over 400 vendors and 200 local stores converge for an unforgettable Encinitas experience.
Beachside Paradise
Encinitas is a beachside enclave like few others. A culture of healthy living combines with incredible year round surfing opportunities. Beginners may want to start at Grandview Beach for its accommodating combination of swells. Just to the south of Encinitas Self-Realization Center, Swami's is a popular point break. Surfers of all skill levels can carve huge waves throughout the year. Meanwhile, D Street is the access point to a mile-long beach known as Boneyards. Its rocky shores filter out the sunbathers.
Those just looking to relax will enjoy Moonlight State Beach. Located at the end of Encinitas Boulevard, the shore drops down near sea level. It is the most accessible Encinitas beach. A large sandy area, playground, bathrooms, showers, fire pits, and volleyball courts make it ideal for a beach filled afternoon.
Sea Cliff, a small park next to Swami's parking lot, is also a great place to relax. Shady trees, picnic tables, and barbecue grills make for an idyllic setting.
Schools in Encinitas
As a fairly large community, Encinitas has a wide range of public and private schools. Many with above average records.
Flora Vista Elementary, Diegueno Middle, and San Dieguito High School Academy enjoy a prestigious 8/10 rating from greatschools.org. Ocean Knoll Elementary, Paul Ecke-Central Elementary, La Costa Canyon High, and Oak Crest Middle also rate highly at 7/10.
Notable private schools include Montessori School of Encinitas, The Grauer School, Pacific Academy, and Cardiff Elementary.
Real Estate in Encinitas
From luxury beachfront homes along sublime seaside cliffs, to voluminous homes on tranquil suburban streets, to warm and vibrant condos, Encinitas real estate covers a broad range of property types. The Encinitas real estate market can be divided into two basic categories, coastal and inland.
Encinitas' coastal real estate market lies west of the I-5 between San Elijo Lagoon to the south and Batiquitos Lagoon to the north. A majority of homes in this area are valued in the multi-million dollar range. The most exclusive of the exclusive occupy the hallowed land west of Pacific Coast Highway. Homes along this stretch feature amenities like direct beach access, panoramic ocean views, oceanfront inifinty pools, and wall to wall windows.
The inland real estate market does not get much more affordable compared to coastal. But you get more for the same price. The most exclusive inland homes feature panoramic hilltop views, large private lots, multi-level decks, and large backyard pools. There are even some equestrian properties.
Those in search of a San Diego starter home will find interesting opportunities in Encinitas. When it comes to the coast, Leucadia has some affordably priced condos and mobile homes. The rest of Encinitas' affordably priced homes are scattered among the inland neighborhoods. You might even find a single family home or two under $1 Million.
South Park is not the biggest or flashiest neighborhood on our list. But there is something special abou it. Encompassed by Switzer Canyon to the north, Juniper Canyon to the east, and Balboa Park to the west, South Park exudes a relaxing small town feel.
As you walk down its tree-lined sunny streets, past custom homes and modern condos, past busy restaurants and bars full of joyful patrons, South Park enchants you with its humble charms.
Recreation, Shopping & Dining in South Park
A highly walkable neighborhood, South Park boasts a wonderful range of restaurants, bars, shops, and parks. From the bustling businesses along Fern St and 30th St, to the lush fields of Balboa Park, there is a good deal to explore. One always finds people out and about in South Park, giving the neighborhood a lively yet relaxed atmosphere.
Restaurants
There are several superb restaurants that have really made their mark in South Park. Buena Forchetta's wood-fired pies and global wine list always attract a crowd. Its neighbor Kindred offers vegan fair and creative cocktails in a whimsical setting. Piacere Mio is another popular Italian restaurant with high quality fare. For more traditional Italian fare, Mazara Trattoria is a fine choice with its cozy setting and mural-covered walls. Eclipse is a chocolate bar and bistro serving delectable desserts and delicious meals. For Indian food, Curryosity is always a highly satisfying culinary experience.
Bars, Taverns, & Breweries
When it comes time to enjoy a drink with friends, South Park provides excellent options. The Rose Wine Bar offers thoughtfully sourced wines in an open, airy setting. Open-air beer garden Station Tavern serves American comfort food and craft beers. Always busy, Fernside attracts the crowds with its signature cocktails and chef driven fare.
Coffee Shops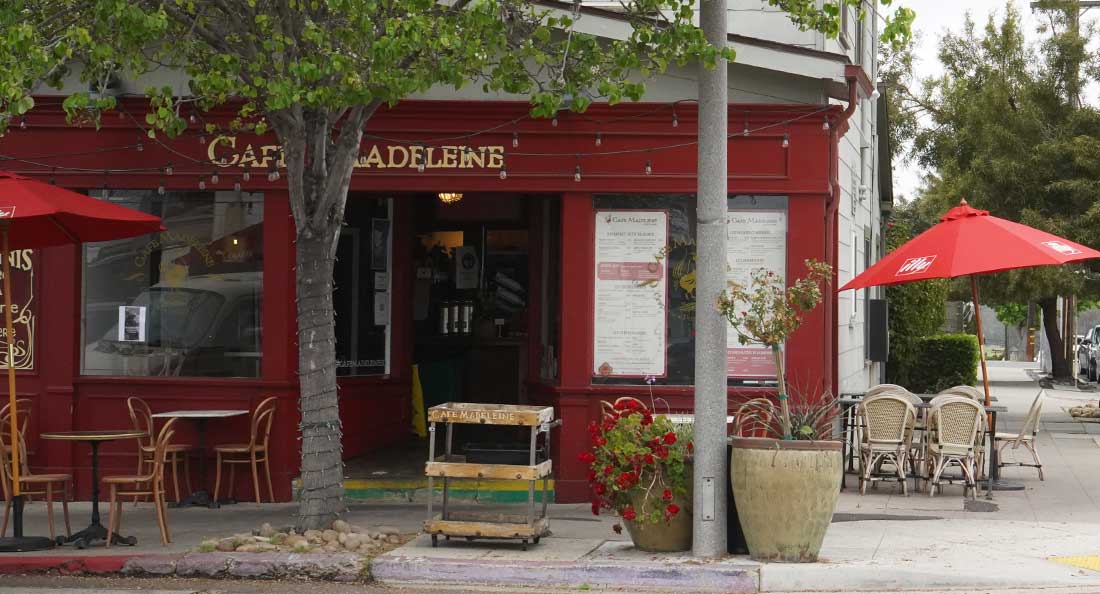 Good coffee is easy to come by in South Park. Seven Seas brews specialty coffee sourced from micro lot farms. Communal Coffee serves its gourmet coffee and treats from a charming vintage trailer. Cafe Madeleine transports you to France with its crepes, pastries, and espresso drinks in a cozy outdoor setting.
Shopping
South Park shopping includes an ever dependable ExpressTarget and a delightful assortment of independent shops. Bad Madge & Co. is a vintage shop with fashionable clothing, jewelry, furniture, and home decor. The trendy, loft-like Thread + Seed sells premium quality clothes by select brands. Gold Leaf is a rustic-chic boutique with colorful furniture, home decor items, and gifts.
Balboa Park Golf Course & Grape Street Dog Park
South Park is bordered by Balboa Park to the west, giving residents easy access to Balboa Park Golf Course and Grape Street Dog Park. The golf course is in amazing condition and makes for an incredible afternoon with friends. Meanwhile, Grape Street Dog Park, surrounded and shaded by towering eucalyptus trees, is always a lovely place to take your dog.
Schools in South Park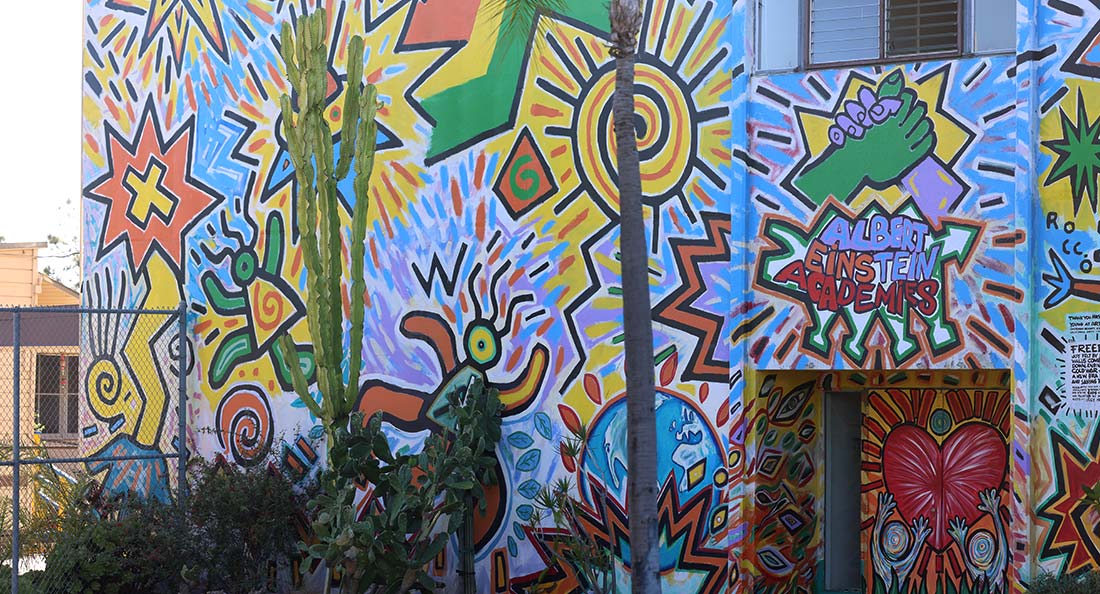 There are only a couple schools located within South Park. Mcgill School of Success describes itself as a small school with a big heart. This free, public charter school serves kindergarten through 5th grade students. Albert Einstein Academies is an IB Primary Years Programme-certified charter school that serves elementary grade levels.
Real Estate in South Park
South Park real estate is a mix of historic American-style homes, spanish bungalows, renovated modern homes, and elegant mansions. The most sought after homes border the park along 28th street, and boast panoramic views of Balboa Park Golf Course.
There are a few smaller sized condo and townhome developments in South Park. They include Edgemont Mews, Park Hill Townhomes, and South Park Villages.
South Park is a small and highly desirable place to live. Most real estate listings sell quickly and at above average prices. If you plan to buy a home in South Park, it's important to keep up on daily inventory.
Bankers Hill is an upscale neighborhood bordered by Mission Hills and Hillcrest to the north, Downtown to the south, and Balboa Park to the East. It has undergone a great transformation in the last several years. Many old buildings and homes have been transformed into gleaming condo developments. Meanwhile, historic homes dating to the 1800s are restored as office suites and bed & breakfasts. Bankers Hill's central location puts the best of San Diego at your fingertips.
Recreation, Shopping, & Dining in Bankers Hill
One of the most walkable neighborhoods on our list, Bankers Hill is a perfectly situated urban mecca. Its sweeping panoramic views, fine dining restaurants, and central location just west of Balboa Park create an idyllic ubran landscape.
Balboa Park
Living in Bankers Hill means having magnificent Balboa Park as your backyard. Literally if you are lucky enough to reside in a Sixth Ave condo accross the street from the park. Its myriad museums, event venues, cultural centers, art and crafts shops, restaurants, and parks, and hiking trails invite you down paths of discovery and enjoynment.
Phenomenal Restaurants
Bankers Hill boasts a restaurant scene that rivals larger neighborhoods like Downtown and La Jolla. While not in sheer quantity, certainly in terms of quality. Fifth and Sixth Ave bring together some of San Diego's best restaurants into a span of a few blocks.
For some of the most exquisite Italian cuisine in the city, Civico by the Park and CUCINA Urbana are consistently excellent. Both are top-rated by food critics and beloved by the public.
There is also a fine selection of French inspired restaurants. Parc Bistro-Brasserie serves authentic French cuisine in a rustic setting filled with vibrant flower pots. The iconic Mister A's draws in diners with its bay and skyline views and French-hued American cooking.
For vegan fare you can't go wrong with Evolution and Donna Jean, situated side by side on the corner of Fifth Ave and Quince St. Evolution has a drive through window, making it ideal for take home orders. Meanwhile, Donna Jean is a wonderful sit down place with its spacious patio and herb garden.
Other notable restaurants include Barrio Star and Jimmy Carter's for Mexican cuisine, Hob Nob Hill for American comfort food, and Azuki Sushi Lounge for creative rolls and premium cut steaks.
For desert, there is none other than the most famous desert restaurant in San Diego–the one and only Extraordinary Desserts. Its showstopping cakes and deserts make it a must visit for locals and visitors alike.
Something Good is Brewing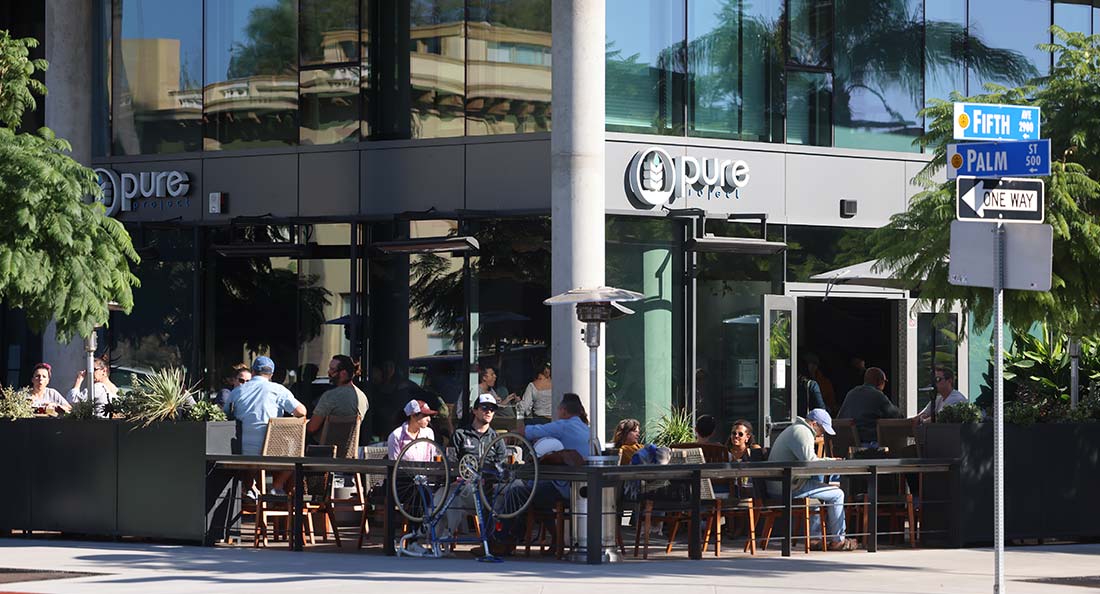 Bankers Hill is home to multiple popular breweries. The Corner Drafthouse is a cozy local hangout with a wraparound patio serving craft Southern California brews. The Balboa is a small tavern known for its cocktails, live music, and vintage decor. If you really want to be impressed visit Pure Project Balboa Park. Its 1000-sq. ft. outdoor patio ticks all the boxes. With 20 rotating taps, there is always something new to try.
In the Middle of Everything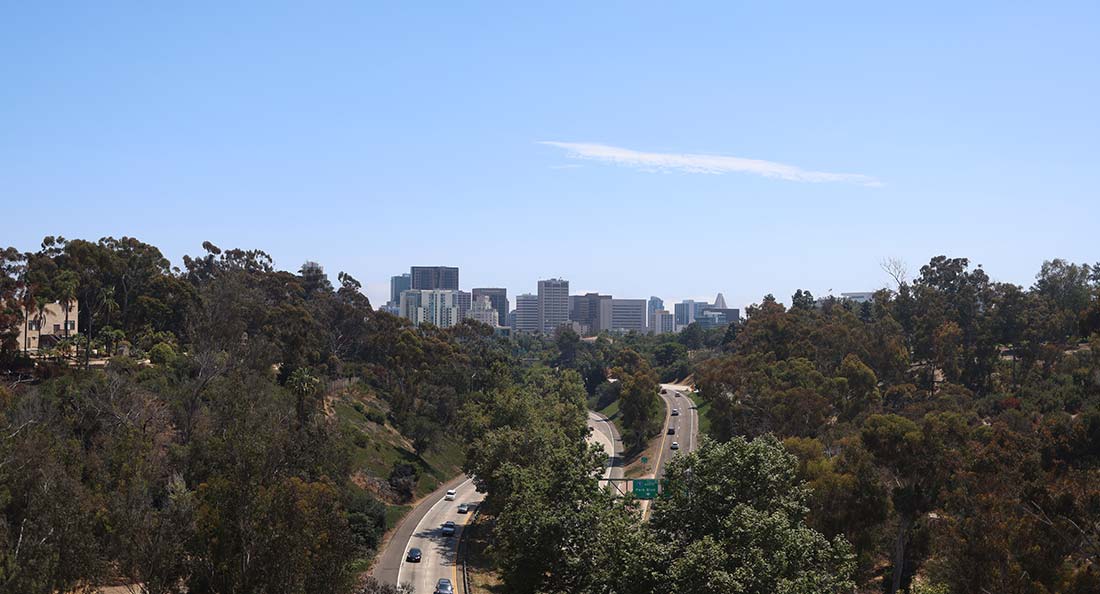 Bankers Hill enjoys the perfect San Diego location. Not only is it next to the main entrance to Balboa Park, it is next to many other great neighborhoods.
Little Italy to the south is always bustling with activity. Its countless restaurants, pastrie shops, and ice cream parlors are a delight to explore.
Hillcrest to the north has a lively nightlife scene. The Hub Hillcrest Market is a modern retail center with grocery stores, shops, restaurants, and various services.
For all your shopping needs, travel a bit further north to Mission Valley. The malls of Mission Valley and Fashion Valley cover just about every shopping need one can imagine. While Mission Valley caters to a broad market, Fashion Valley attracts high end shoppers with luxury stores like Bloomingdale's, Neiman Marcus, and Nordstrom.
Schools in Bankers Hill
As one of the smallest neighborhoods on this list, only a couple schools reside directly within Bankers Hill. The Museum School is a tuition-free, public charter school serving all San Diego students from kindergarten through 8th grade. Its curriculum goes beyond the basics with project based departments and enriching arts classes. City Tree Christian School is dedicated to academic excellence integrated with a Christian moral foundation. It serves students from preschool through middle school.
Though there are few schools within Bankers Hill, it is surrounded by great schools in nearby neighborhoods. Notables include Monarch School, Urban Discovery Academy, San Diego High School, Garfield Elementary School, San Diego Global Vision Academy, Central Elementary School, Washington Elementary School, and Aseltine School for special education.
Real Estate in Bankers Hill
Bankers Hill's impressive collection of real estate includes modern condos, exclusive high rise penthouses, and historic single family homes. As time goes by, smaller, older properties are replaced by multi-unit luxury developments. It seems there is always a new building under construction in this popular San Diego neighborhood.
The majority of Bankers Hill listings are priced over $1 Million. The highest priced properties, usually penthouses, can sell for upwards of $4 Million. With few remaining single family homes, those that list fetch high prices and stay on the market for a short time. In contrast, smaller condos in older buildings remain relatively affordable.
Mission Hills is a very popular San Diego neighborhood just north of Downtown, west of Hillcrest, and south of Mission Valley. Residents enjoy breathtaking views of the city skyline, San Diego Bay, and Old Town. It is one of the city's oldest and most sought after neighborhoods.
The first homes were built on the best spots in the early 1900s. More modern homes were built to infill the hillsides and canyon rims starting in the 1950s. Any list of the best places to live in San Diego is sure to include magnificent Mission Hills.
Recreation, Shopping, & Dining in Mission Hills
Though a primarily residential area, Mission Hills features various independent shops and restaurants. These are concentrated in the business district that runs along West Washington from Hillcrest. Enjoy new American cuisine at Harley Gray Kitchen & Bar, farm-to-table at Farmer's Bodega, or fine Italian dining at The Red Door. For Chicago-style pizza there is famous Lefty's. Or you can indulge in gourmet cheeses from around the world at Venissimo Cheese.
The charming Mission Hills Nursery on Fort Stockton Drive is one of San Diego's oldest and most popular nurseries.
Schools in Mission Hills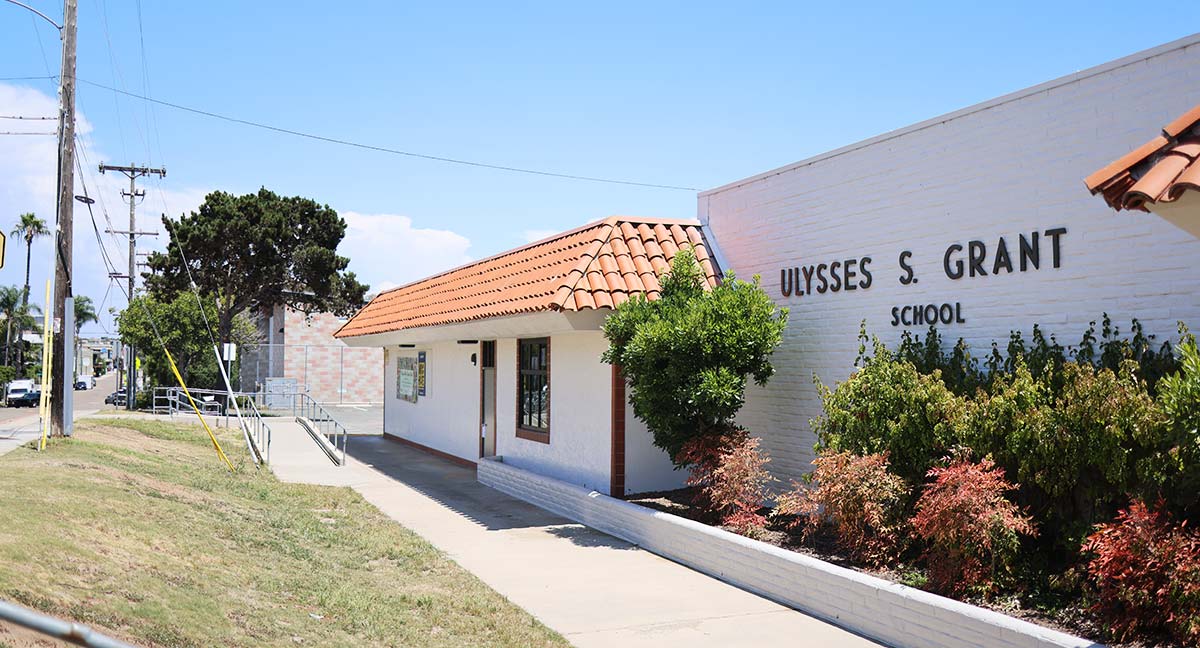 Being a smaller residential neighborhood, the only school within Mission Hills is Mission Hills Community Preschool. However, given its central location, there is an abundance of great schools near by. Notable schools include St. Vincent De Paul, Grand K-8, and Old Town Academy K-8 Charter.
Real Estate in Mission Hills
Mission Hills is distinguished by its impressive array of custom luxury and historic homes. Marveling at these beautiful estates, it becomes clear why Mission Hills is one of the best neighborhoods in San Diego.
Mission Hills boasts a wide variety of architecturally impressive real estate. Old majestic homes, cozy craftsman bungalows, and renovated mansions populate this immaculately maintained San Diego gem.
Mission Hills is a far cry from the cookie-cutter subdivisions that tend to define newer neighborhoods. Each home has its own unique character and charm.
Rancho Santa Fe is a bucolic community in North San Diego County covering a 6.8 square mile area. Eucalyptus-covered Rolling hills merge with acres of orchards in this beautiful affluent neighborhood. One of California's first planned communities—defined by stunning Spanish Colonial Revival architecture—is located in Rancho Santa Fe.
Recreation, Shopping, & Dining in Rancho Santa Fe
Rancho Santa Fe is home to Rancho Valencia Resort & Spa. Part luxury hotel, part restaurant, part spa, and all relaxation, this five-star resort is a popular local spot. Its Spanish Colonial architecture includes 49 private luxury 'casitas'. Enjoy memorable Coastal Ranch cuisine in a welcoming al fresco dining atmosphere.
At the center of 'The Ranch' one finds the Rancho Santa Fe Golf Club, offering members a myriad of ways to enjoy their day. Visitors can enjoy lunch on the patio, casual dining, a peaceful horse ride, and more. Its Max Behr designed golf course opened in 1929. It has been recognized as one of the top 100 walking courses in the country.
Schools in Rancho Santa Fe
With top-rated schools at various levels, Rancho Santa Fe is an ideal place to raise kids. R. Roger Rowe Elementary School and R. Roger Rowe Middle School receive a 10/10 and 9/10 from greatschools.org. Private schools include Horizon Prep and The Nativity School.
Real Estate in Rancho Santa Fe
Rancho Santa Fe is a luxury real estate market consisting almost exclusively of multi-million dollar properties. There are mostly single-family homes, with some condos, and townhomes.
Many Rancho Santa Fe homes sit in private, gated subdivisions with impeccably maintained grounds.
Multi-acre custom estates are common and can include features like private movie theaters, resort style pools, tennis courts, and world class architecture.
For those looking to build a home from the ground up, there are various desirable lots for sale.
Living in Rancho Santa Fe can feel like having your own private sanctuary, with all the amenities one could ever need.
Best San Diego Neighborhoods: From the Coast to the Countryside
The best San Diego neighborhoods are not concentrated in a single region. They are spread among a highly diverse geographical area. Choosing the right neighborhood for you is a matter personal preference.
Do you like the hustle and bustle of urban settings? Do you like to be in the middle of it all? Urban central neighbrhoods like the Marina District and Bankers Hill will have a strong appeal.
Are you looking for a neighborhood with a more relaxed atmosphere? Do you prefer living close to the beach? Coastal neighborhoods like La Jolla, Solana Beach, and Encinitas are excellent neighborhoods that can feel like a permanent vacation.
Is your priority to live somewhere quiet, away from the haste and commotion of the city? Do you prefer the countryside over the city? An inland neighborhood like Rancho Santa Fe can provide the tranquil lifestyle you seek.
Whatever your preferences, the team at SD Home Guide can help you find your perfect neighborhood. We know San Diego well, from the coast to the city to the countryside. There is no neighborhood we are not intimately familiar with. Contact us today to discuss your next move!